SUSTAINABLE SWIMWEAR (BEYOND ECONYL®)


WHAT IS SUSTAINABLE SWIMWEAR?
When it comes to sustainable swimwear we see so many brands advertising that they're "made from ocean waste", especially around the time of World Ocean's Day. Sounds good.... right!? These brands are almost always using ECONYL® - a regenerated fabric made from many sources of plastic waste, which includes ocean waste, but there is nothing on the to ECONYL® website to indicate that this is the main source, so making such broad claim on it's own seems a bit like greenwashing to us. We're all for a swimwear made from recycled materials, but too often the conversation about sustainable swimwear starts and ends here, when there is much more to be done in the category. So we decided to look into the use of ECONYL® a bit more, see how good it really is, and see what else we can look for in a sustainable and ethical swimwear brand.


IS ECONYL® ACTUALLY SUSTAINABLE?
It's one of the most widely used materials in the 'sustainable swimwear' category, but how good for the planet is ECONYL®? We did some research online, so you don't have to. Shout out to GoodOn You + some other sources for this overeview:
Nylons, commonly used in swimwear, are a family of materials called polyamides, made by reacting carbon-based chemicals found in coal and petroleum (yes, coal and petroleum!) in a high-pressure, heated environment. This chemical reaction, known as condensation polymerization, forms a large polymer—in the form of a sheet of nylon.
Traditional production methods for nylon are not eco-friendly - as well as being oil and coal based, they require huge amounts of water and produce a hefty amount of nitrous oxide, which is 10 times more potent than carbon dioxide.
ECONYL® is a recycled fabric - alternative to virgin nylon - created by Italian firm Aquafil, that uses synthetic waste such as industrial plastic, waste fabric, and fishing nets from oceans, then recycles and regenerates them into a new yarn that is exactly the same properties and quality as virgin nylon.

This regeneration system focuses on 6 steps that form a closed loop which uses less water and creates less waste than traditional nylon production methods. Waste is collected, then cleaned and shredded, depolymerised to extract nylon, polymerised, transformed into yarn, and then re-commercialised into textile products.
So generally, it's a very good alternative, but the issue is that all synthetic fabrics, including ECONYL®, are not biodegradable, and emit microplastics - tiny plastic particles - which are released particularly when you wash. It is estimated that up 40% of man made plastic waste in the oceans are Nylon, so you still need to be aware of how to minimise them when using the recycled plastic fabric.
It's fair to say if a brand is saying that they're "made from ocean waste" on World Oceans Day, are telling you half of the message if they aren't also telling you about the microplastic issue and how to address it. GoodOnYou have a hand guide on how to reduce microplastic shedding you can read here, and we highlighted a couple of ways you can catch microfibers when we wrote about Everyday Eco-Friendly Swaps on the PARO blog.
WHAT ELSE TO LOOK FOR IN SUSTAINABLE SWIMWEAR
PLASTIC FREE - Nylon really is an ideal swimwear fabric, but there are alternatives out there - from organic cotton, linen and hemp, to bio based materials made from polymers from castor beans, and natural rubber neoprene alternatives. The beauty of these materials is no MICROPLASTIC shedding. That really is ocean friendly!
NATURAL DYES - Synthetic chemicals for dyeing textiles make up 20% of global water pollution, so another way to consider the oceans when buying swimwear is to go for naturally dyed materials.
LONG LASTING - Swimwear it is highly seasonal - the number of wears is limited often to a couple of weeks a year for European's like us, so we don't need to overconsume and cause unnecessary damage to the planet. look out for brands who practice a slow fashion approach to swimwear; high quality, avoiding trends, swimwear that will stand the test fo time, and is multi-functional.
INCLUSIVITY - a sustainability conversation can never happen in an environmental vacuum, and we always need to consider impact on people. Swimwear is a toxic category which perpetuates unrealistic beauty ideals which leave many of us feeling lacking - support for brands that stand for inclusivity (e.g. gender identity, size and more).


5 SUSTAINABLE SWIMWEAR BRANDS WITH PARO APPROVAL
With these things to look out for in mind, we're giving a shout out some of our favourite swimwear brands who are moving beyond just using recycled materials to have a positive impact on the world in many ways. Whilst, true to the PARO ethos, having an uncompromising eye for design. Here are our top sustainable swimwear picks for summer, that you can find on PARO STORE and beyond:
E.MACBEAN is a UK swimwear brand and a creative collaboration between Andrew and Eleanor Ibi. The E.MACBEAN ethos is one of slow, considered, sustainable swimwear; made for a diverse, fearless and culturally-aware community. E.MACBEAN's aim is to claw back the traditional swimwear narrative from the male gaze; bored of the anodyne, careful, traditionally pretty/sexy swimwear imagery that has dominated the market for so long.
E.MACBEAN swimwear is made with ECONYL®, and they also offer a range of beach accessories made from up-cycled and sustainable materials. Their first swimwear collection is inspired by and named after characters from female-written literature; the eponymous 'Sula', from the Toni Morrison novel, and 'Zenia' from Margaret Attwood's The Robber Bride. Future collections will take references from female-driven music, film and the arts - think Patti Smith by the sea; Simone de Beauvoir in an oversized punk beach sweat; Angela Davis in a carefully designed structural one piece.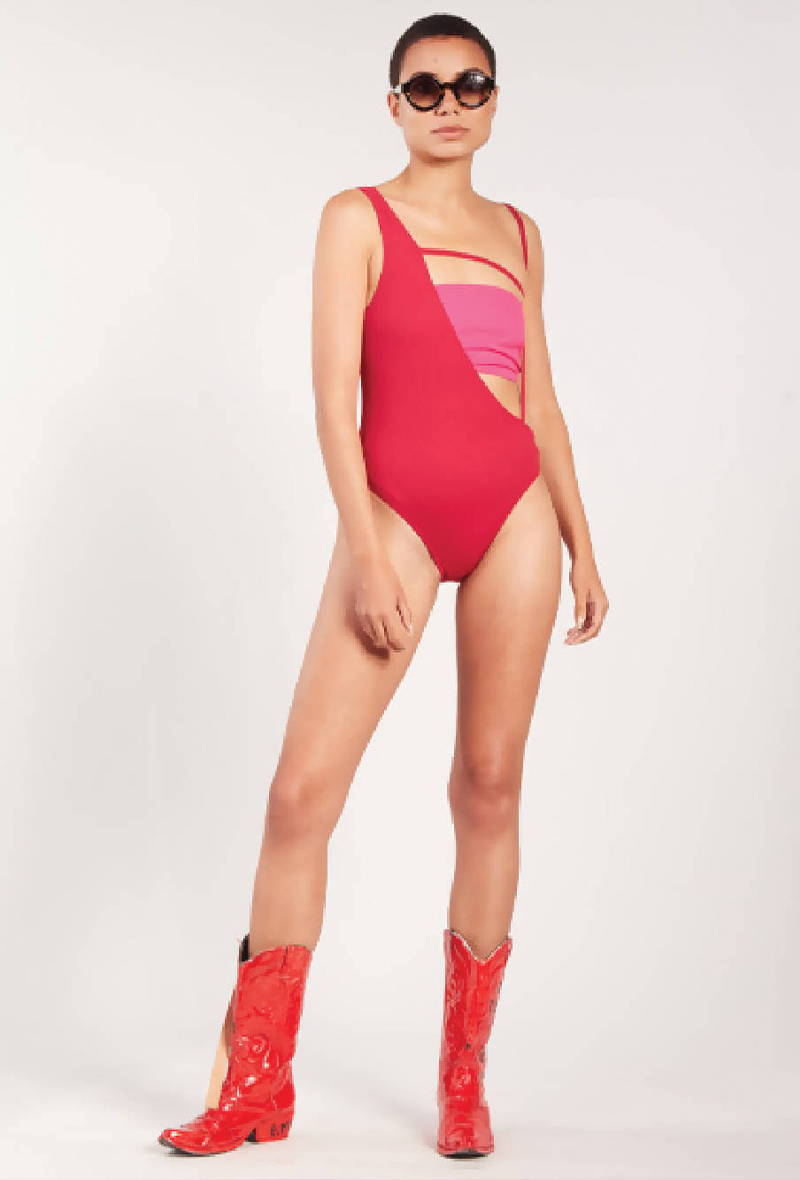 E.MACBEAN LENU/LILA PINK RED HYBRID SWIMSUIT
A concept Two Piece with Asymmetric, Skeleton Strapped Body and Separate Bandeau. Lenu and Lila are the lead characters in Elena Ferrante's celebrated book – My Brilliant Friend. The design and development references Italian Art Movements, Furniture, Architecture and Interior Design.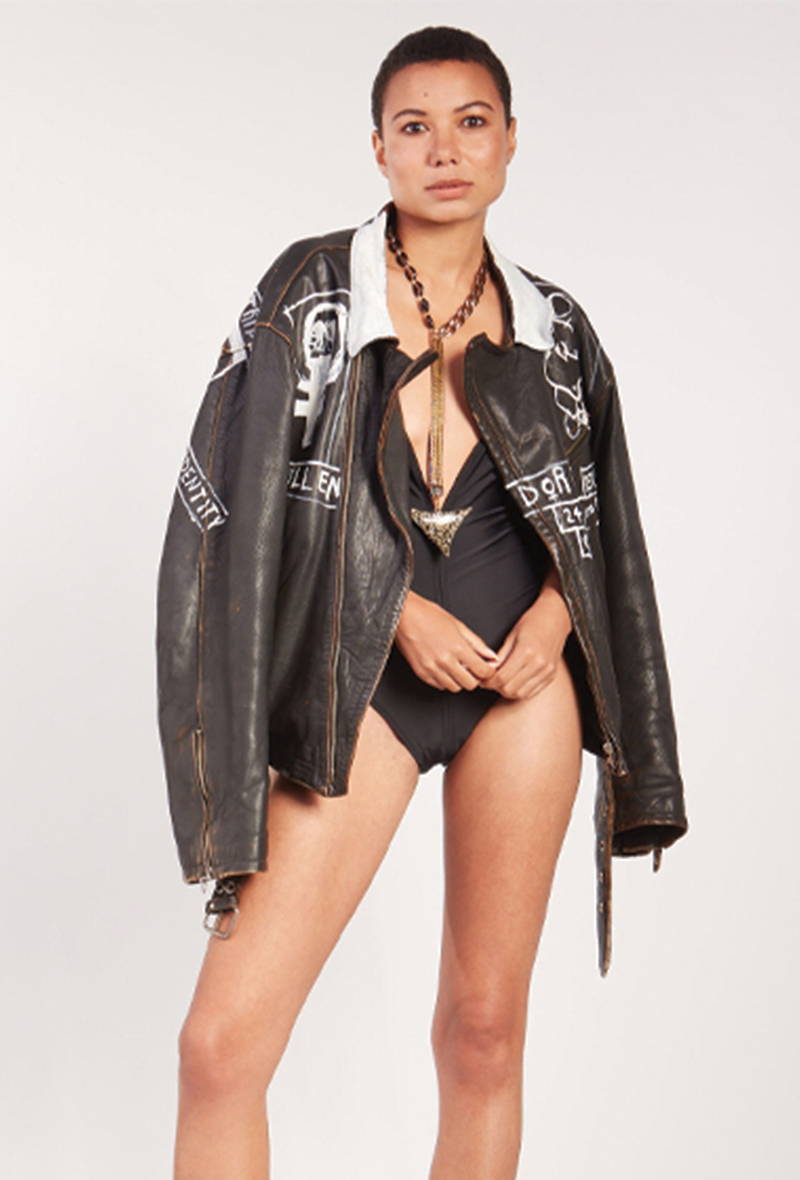 E.MACBEAN PEYTON BLACK PLUNGE FRONT HYBRID SWIMSUIT
Peyton plunge front 'o' ring back bikini/one-piece hybrid. The design and development reference 80's Trash Culture, New York Punk, Americana and it's associated Popular-Culture. Peyton is the lead character in Tama Janowitz's celebrated novel – Peyton Amberg. Made from 78% ECONYL® Regenerated PA 22% EA.


2. swimwear made from NATURAL FIBERs
Par Cielle is a hand-crochet brand founded in 2018 by Australian born, Paris based, Cielle Marchal. Influenced by a free and unique upbringing in the Australian and French nature, with a connection and respect for these surroundings that inspires the creation of items that integrate with the natural world.
Cielle hand crochets all pieces in her Paris studio using GOTS certified cotton, sourced in China. Every element of packaging and labelling are recycled/ recyclable so that all elements can eventually be re-used or biodegrade into the Earth. While you may use this bikini for slightly different occasions than a synthetic one, choosing natural organic swimwear will eliminate the dreaded micro-plastic shedding when you wash.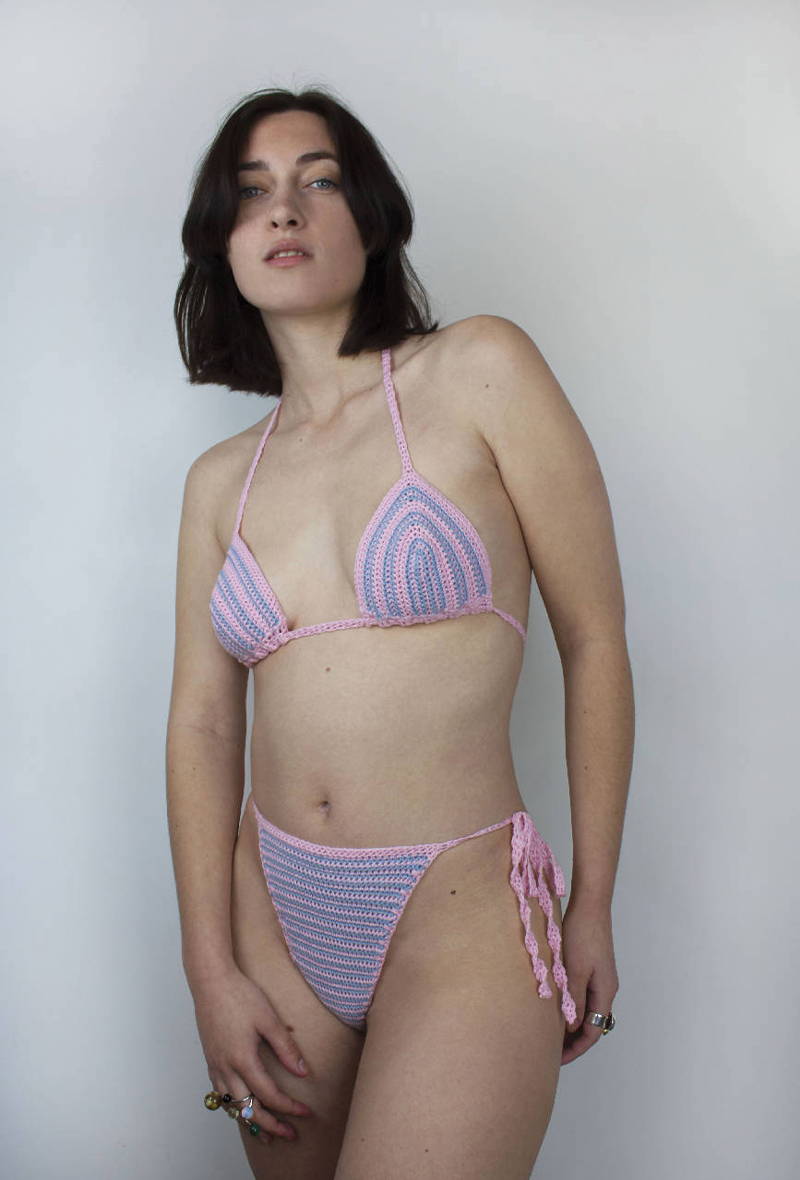 PAR CIELLE BABY PINK & BLUE RIBBED BIKINI
Triangle bikini top with adjustable straps. Worn two ways. High-rise bikini bottoms with adjustable ties. Ribbed crochet effect on both top and bottoms. Available in 3 clolourways.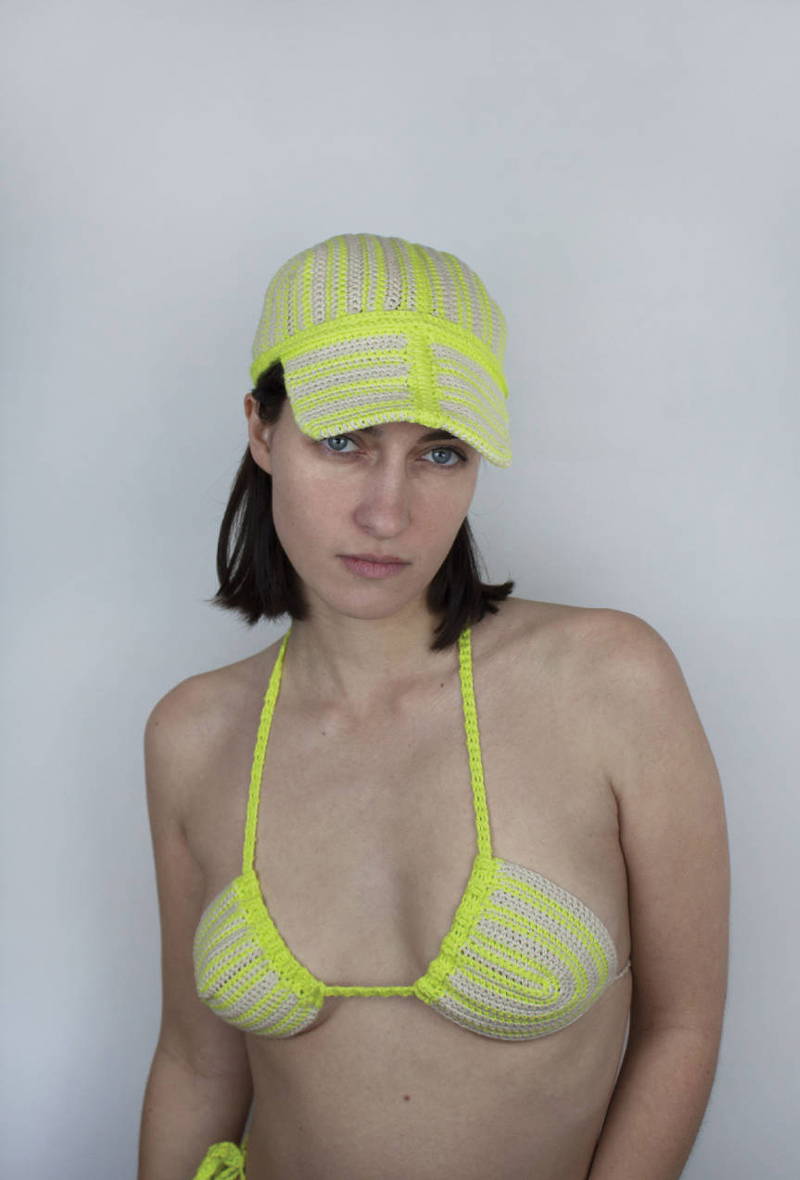 PAR CIELLE LIME & PEARL SPORTS CAP
Two-tone Sports Cap - Lime/Pearl. Adjustable using ties in the back of the of the hat. Sporty baseball cap style. Available in 3 clolourways.
Clō Stories is Barcelona based slow fashion brand that embodies natural and sustainable principles. Clō designs are made to mix and match, and many are reversible, the perfect swimsuit that you can wear again and again, avoiding the need to keep buying more!
Clō Stories full range of products are designed and made in Barcelona. The fabrics and materials that Clō uses - such as ECONYL®, recycled knitwear and organic cotton - are sourced locally in Spain or Italy to support the revival and continuity of the textile heritage of the area. Their labelling and packaging are made from recycled and biodegradable materials.
CLO STORIES BLACK RIBBED REVERSIBLE SWIMSUIT ANNE
The ANNE fantasy rib reversible swimsuit. Features triangle chest side and cut out on side and adjustable tie spaghetti straps, halter silouhette. Available in multiple colourways; one side in a plain colour, the other a more vibrant striped pattern.
Fabrics made in Italy with ECONYL® regenerated nylon. 81% Nylon 19% elastane - Oeko-tex® standard 100 certificate.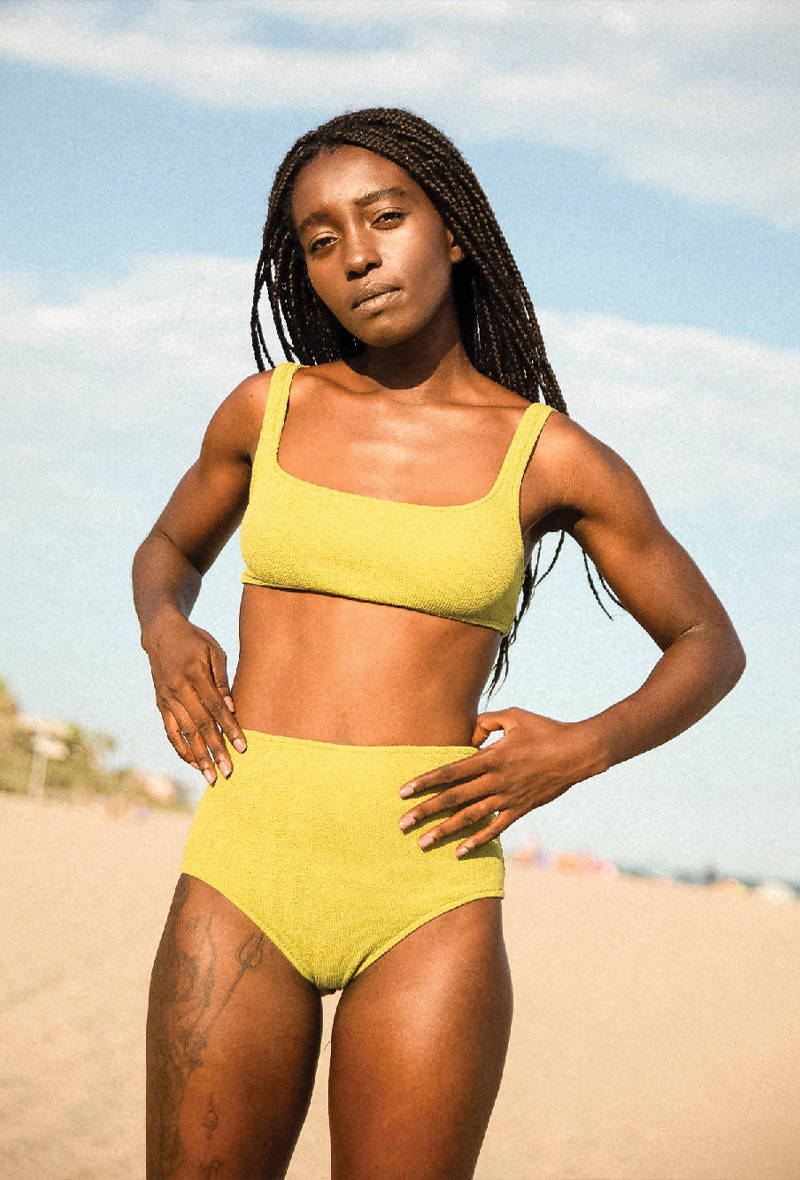 CLO STORIES OLIVE TEXTURED BIKINI TOP JANE
JANE textured bikini top with a squared off sport-tank featured in a sea sponge stretchy fabric fitting. Moderate support, moderate coverage, seamless finishing.
Fabrics made in Spain with Oeko-tex® standard 100 certificate. Swimrelief sea sponge 100% Polyamide Bi-stretch, chlorine resistant, fast drying fabric, Lycra®.


4. swimwear made with NATURAL DYES
Barcelona based Céu Label was founded in 2019 as a way to re-connect with the natural world and reassess our role as humans on this earth. With the name "Céu" which means sky in her native language Portuguese, founder Beatriz Cressoni alludes to how we all live under the same sky.
Although Céu Label use certified organic cotton for their underwear, they chose a 93% recycled polyamide 7‰ elastan blend for their swimwear for functionality. Every piece is strictly free from pollutant chemical dyes, and are hand-dyed in Barcelona, using natural colors such as rubia, acacia, brazilwood, madder root and sandalwood. Céu's ethically made swimwear products are sewn by a small artisan group in Barcelona.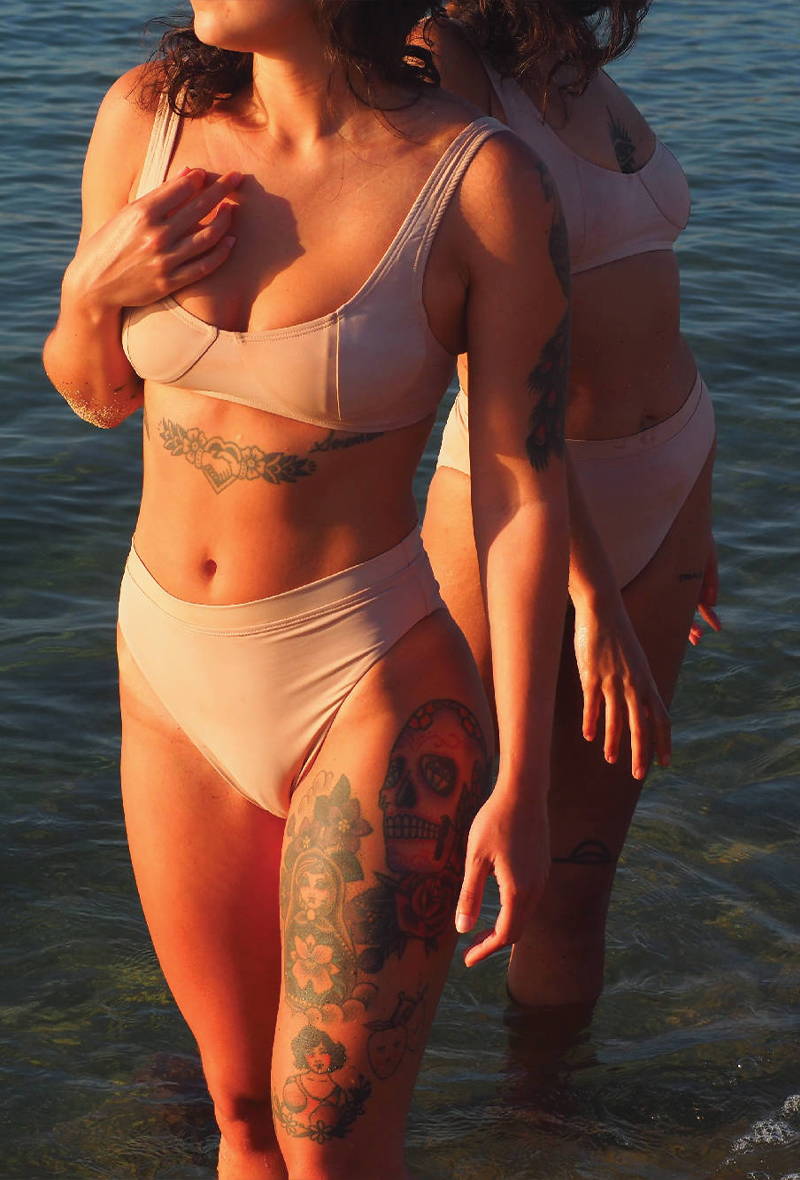 The Maresia Bikini was deigned to always be comfortable and in place. Thoughtfully made to go swim, dance and spend the whole day wearing it. It has a cup shape, but without the underwire, that provides comfort and safety at the same time. Made from 93% recycled polyamide 7‰ elastane. The colour was made by hand and with plants - acacia and rubia - to keep to the brands natural dyes philosophy, and avoiding toxins.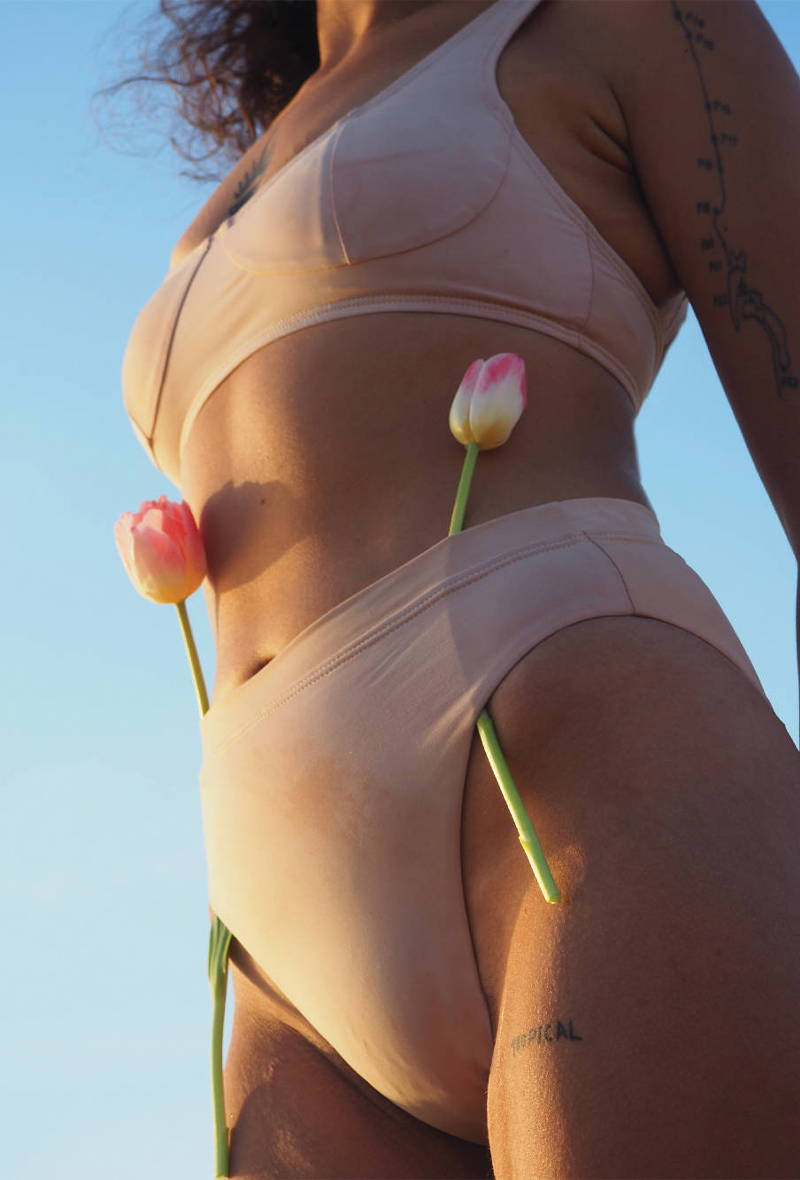 CÉU LABEL UBATUBA ROSE BIKINI BOTTOM
A dialogue between beauty and comfort, Ubatuba Bikini Bottom is a vintage inspired fit with modern-day style, this bottom features a high cut waist and regular leg opening. Thoughtfully made to spend the whole day in it. The colour was made in-house, by hand and with plants - acacia and rubia . The different tones in the fabric are purposeful to make a marble effect.
YouSwim swimsuits adapt to fit you and your body's natural state of flux. They come in one size which currently fits seven sizes in one - from a UK 8-16. They're on a mission to turn the tide on standard, inflexible sizing by creating swimwear that represents us realistically, accepting our bodies as unique, ever-changing, and unedited.
Their inclusive sizing is shown with imagery depicting bodies of all sizes looking fantastic; a refreshing change from the category norm of waif like models. All YouSwim pieces are ethically woven, dyed, cut and sewn in England using European-sourced nylon and elastane. They also offset the plastic use in their swimwear by collecting twice as much nature-bound plastic waste, for every once used in their swimwear.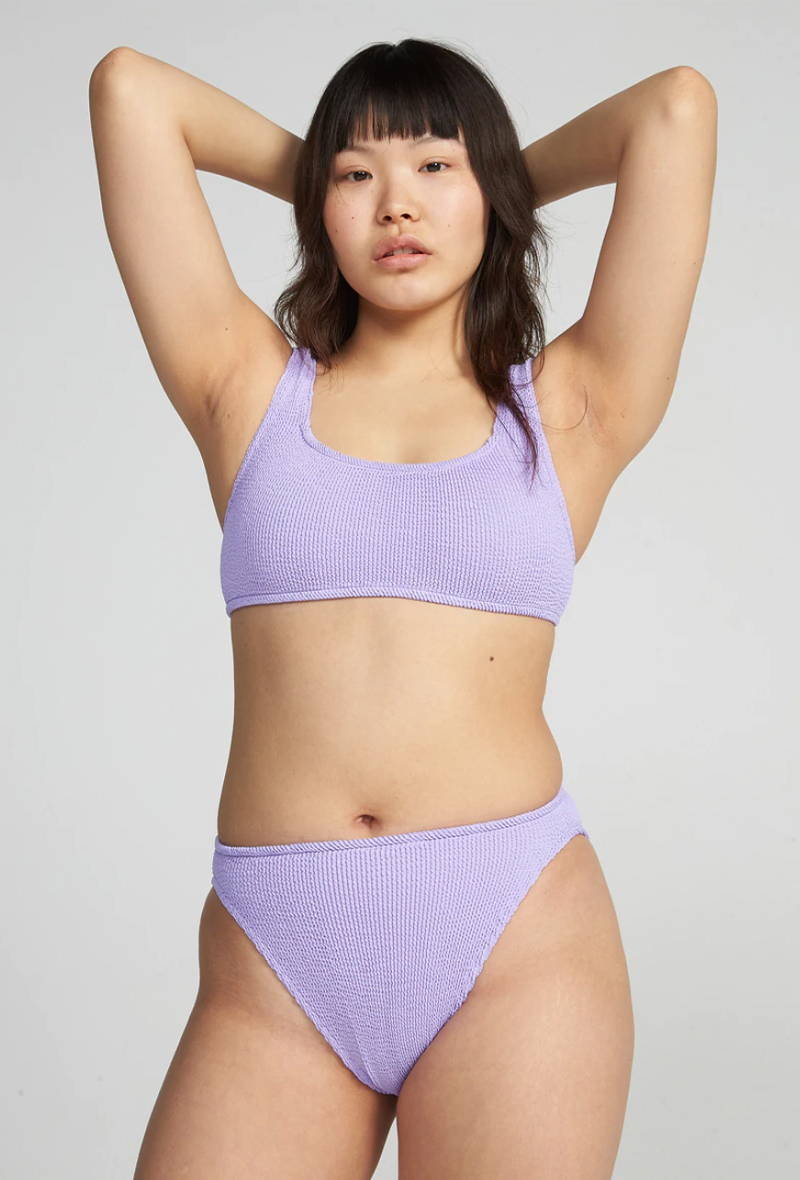 APLOMB STANDARD WASIT TWO-PIECE
A ribbed, and seamless standard waist two-piece stretches to fit seven sizes in one. With a classic shape and medium coverage, the Aplomb stretches in all directions to compliment big-busts, no-butts, petite pears, the tallest triangles, and all the beautiful in-betweens equally. The standard Waist fit offers narrower coverage across the hip.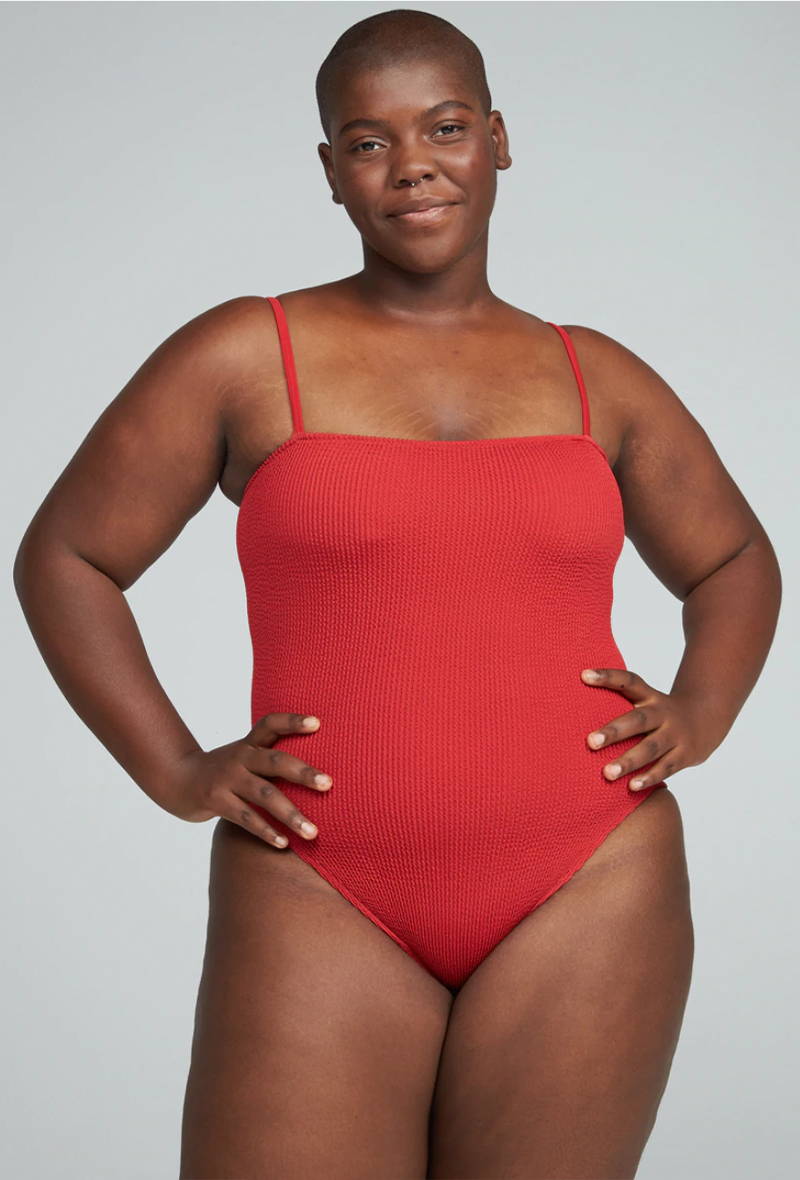 POISE ONE-PEICE
A ribbed, and seamless high waist two-piece with a classic shape and medium coverage. Poise will stretch in all directions to compliment all figures equally. It has medium coverage and mid-rise down the bottom - stretching and firmly holding in your preferred place. Adjust as a high-cut or more covered up look. -that's up to you.


SHOP SUSTAINABLE SWIMWEAR AT PARO STORE