5 Vegan Shoe Brands We Dig This World Vegan Day
We're all aware of the positive impact of living a more plant-based lifestyle, and that applies not only to what we eat but what we wear. But when most of us think of vegan materials we're often taken back to memories of uncomfortable, sweaty, plastic-filled shoes and bags made of cheap materials we used to call "pleather".
Technology has come a long way in the last few years, and so has the consumer opportunity, which means as well as better quality options out there, there is also better (?) marketing, selling us the same old pleather now re-branded as a more premium and desirable "vegan leather". We made this handy guide to choosing vegan footwear brands to help you navigate this greenwashing minefield.
WHY IS IT IMPORTANT TO BUY VEGAN FOOTWEAR?
One of the key concerns with use of animal derived materials in fashion is, of course, animal welfare. In big unwieldy supply chains, the brands you are most likely buying from (even the luxury fashion houses) really have no idea how the animals killed to make their products are treated. You only have to watch documentaries like Slay for some shocking behind the scenes footage that will turn you right off that super-soft calf skin handbag.
The second concern is environmental - animal agriculture causes deforestation and releases huge amounts of CO2 into the atmosphere causing global heating and although the leather industry would say it uses by-products of the meat industry, it probably fairer to say they are co-dependant.
The treatment of animal hides to make them into the leather we are accustomed to is full of toxic chemicals, particularly the tanning phase. The most commonly used industrial tanning method is based on chromium*, a heavy metal that in large amounts can be dangerous to both humans and the environment.
Which brings us to the final concern - people. Tannery workers, who often lack safe working conditions and equipment, suffer an array of medical issues such as disabilities from handling the chemicals and machinery, and due to the high amounts of wastewater produced in tanning, the medical effects of chromium, sulfates and pathogens also harm local communities by contaminating their water sources.
*Vegetable tanning is a more environmentally friendly option if you do chose to wear leather.
WHAT MAKES A FOOTWEAR BRAND VEGAN?
Just because a brand labels itself as "vegan" this doesn't necessarily mean that they're using more eco-friendly alternatives. It's important to check that these materials aren't solely petroleum based i.e. plastic (made from materials like synthetic fabric, PU, PVC) and that they're actually more sustainable alternatives.
As the demand for vegan alternatives is on the rise, we are also seeing huge investment in innovative new plant-based alternative materials that rival the real deal. We've seen brands use food waste like apple, corn, pineapple, and even cactus and turn it into a durable animal product alternative that will compete against your most beloved old boots. There are also lab grown alternatives like "mushroom leather". Almost all of these leather alternatives will require a bit of plastic based material mixed with it to bind it and make it durable. So check the materials composition to see which and how much! Virón show this on the side of their shoes - ultimate transparency.
Durability is without doubt a key quality leather is known for. The leather alternative market is at this stage quite immature and the materials are constantly improving. It's fair to say you're taking some risk when you invest in new technologies and materials, and one of the biggest risks with this space is; will it last? Our advice here - check the reviews, see what people who have tried and tested it have to say.
At PARO, we also believe it's important to think not just about the materials used, but look at the brand itself. We label vegan brands that use animal alternatives as well as those who ensure cruelty-free practices, work with vegan certified suppliers and support NGOs for the protection of animals.
OUR FAVOURITE VEGAN FOOTWEAR BRANDS
Great vegan footwear brands can be few and far between, as finding a durable and great looking vegan alternative that's not a pair of (plastic) crocs is a lot of hard work. Whether you're passionate about animal, environmental or labour issues or you're just looking for a great new shoe made out of plant leather that you can brag about, we've pulled together a list of the most innovative vegan footwear brands on PARO and beyond that get a thumbs up from us.
VIRÓN, a footwear brand that is 100% plant-based, has slow fashion at its core and a philosophy deeply rooted in counter culture. They use primarily Apple Skin™ for their more leather-like shoes, as well as upcycled canvas and recycled plastic bottles to make their eco-friendly vegan sneakers. A transparent brand they show the materials composition on the side of many of their shoes. They also use recycled natural rubber soles - which can be returned at the end of their life and recycled, and biodegradable packaging. You can shop Virón on PARO here.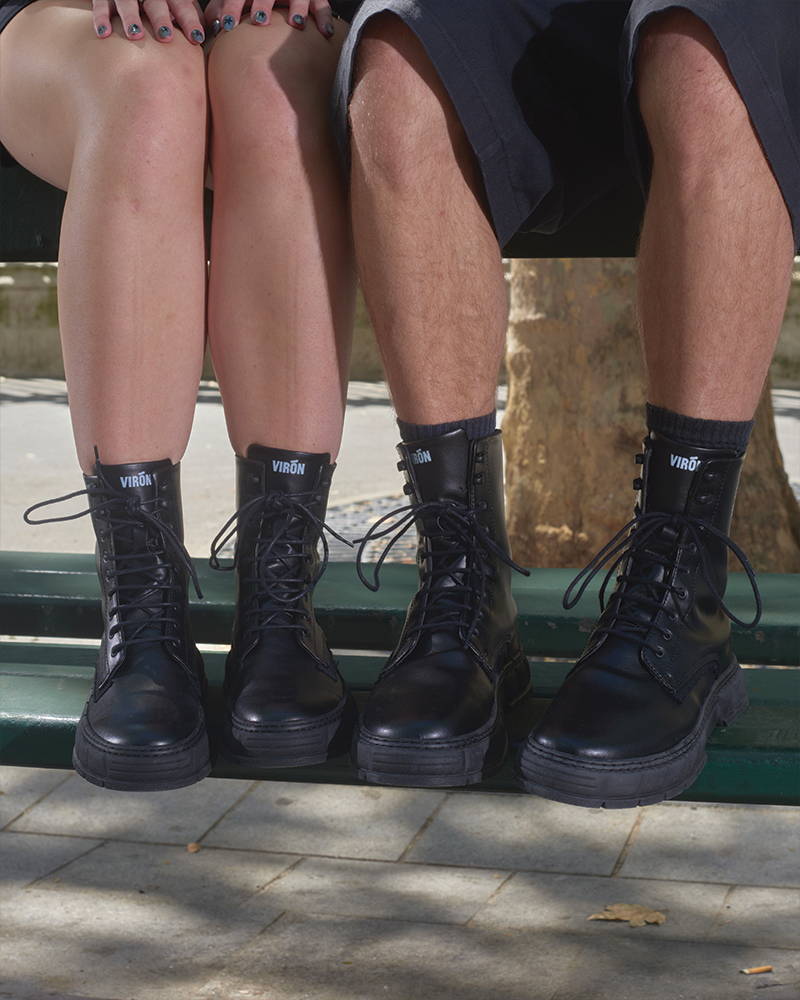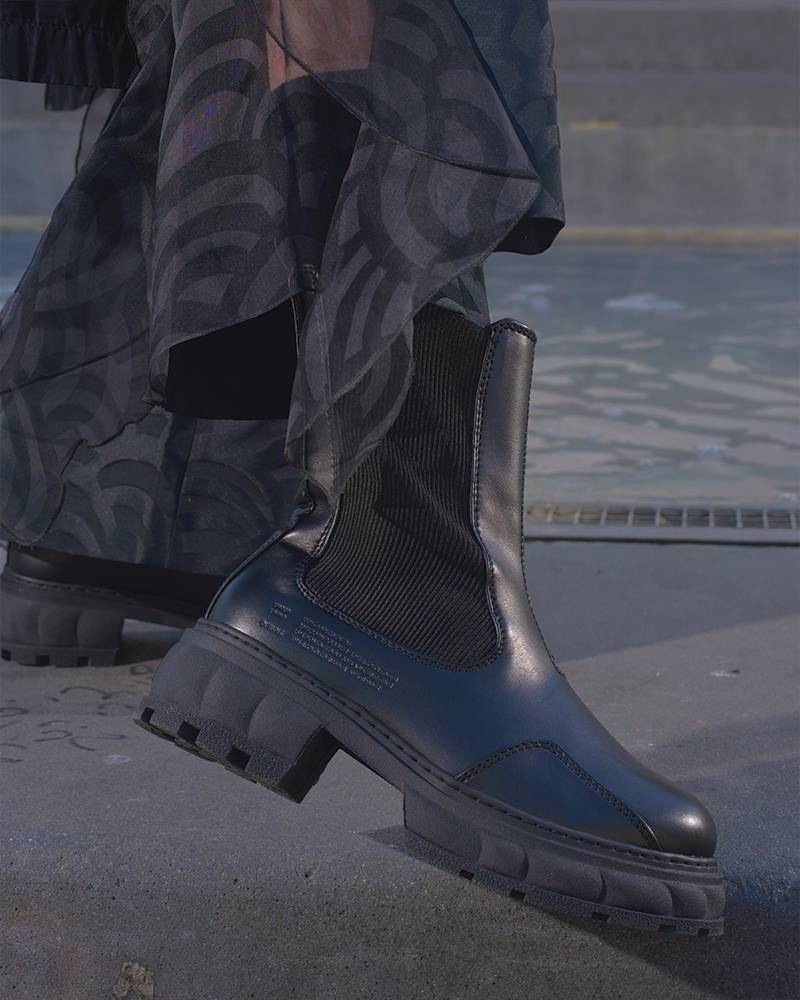 Rombaut, is a vegan accessory brand with sustainability at its core. Rombaut focus on strong aesthetics and humanistic values, aiming to provide a way forward for a world in need of progress. Their more experimental design focus plays with colour form and detailing using luxurious eco-friendly materials with an aesthetic of purity, optimism and gloom.

As well as using apple leather, Rombaut has also developed a super soft vegan leather made from cactus and most recently a sneaker foam made out of a resin created from algae and bio-based additives. Definitely a brand to keep an eye on as they continue to create incredible new materials. You can shop Rombaut on PARO here.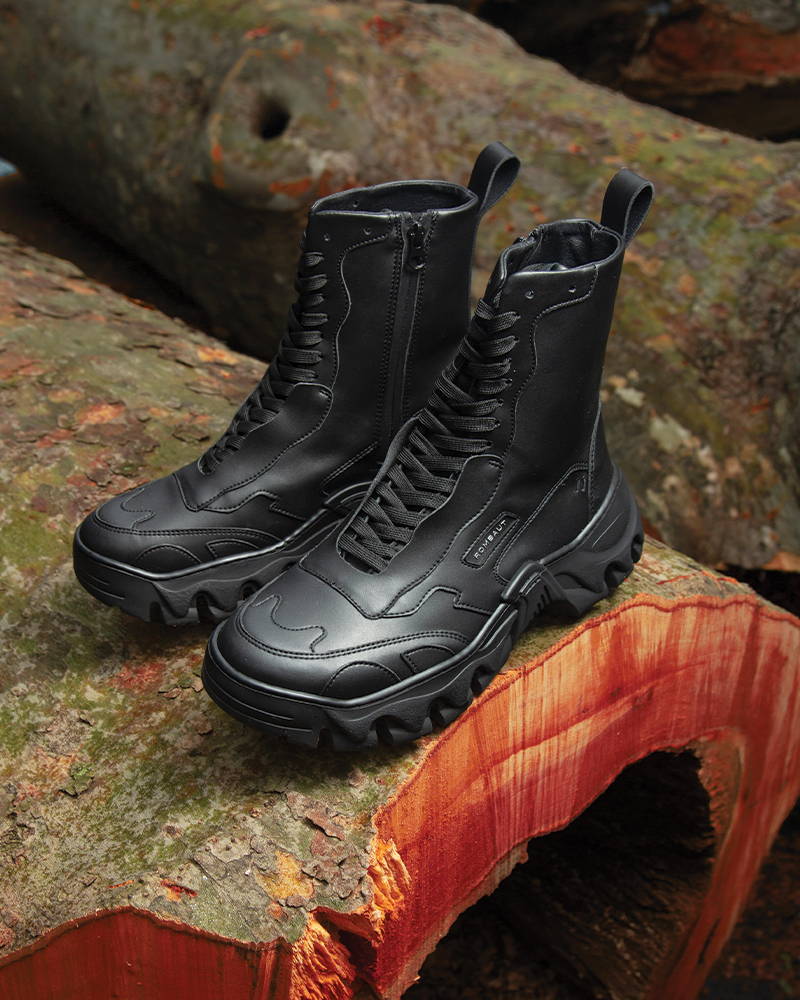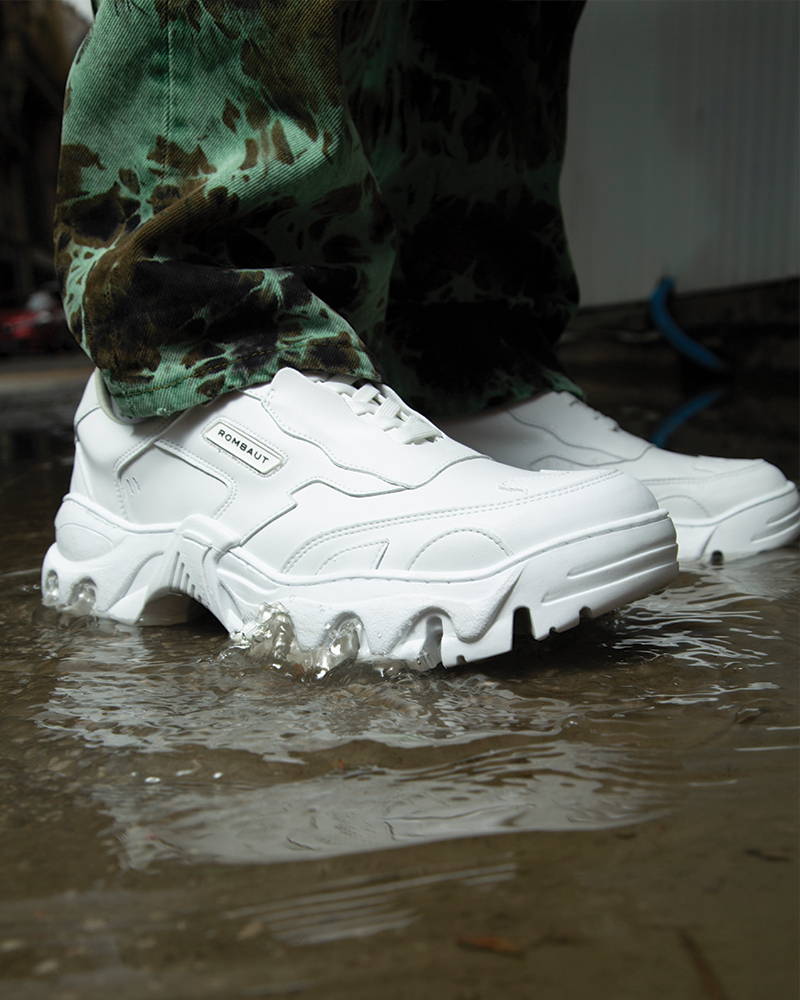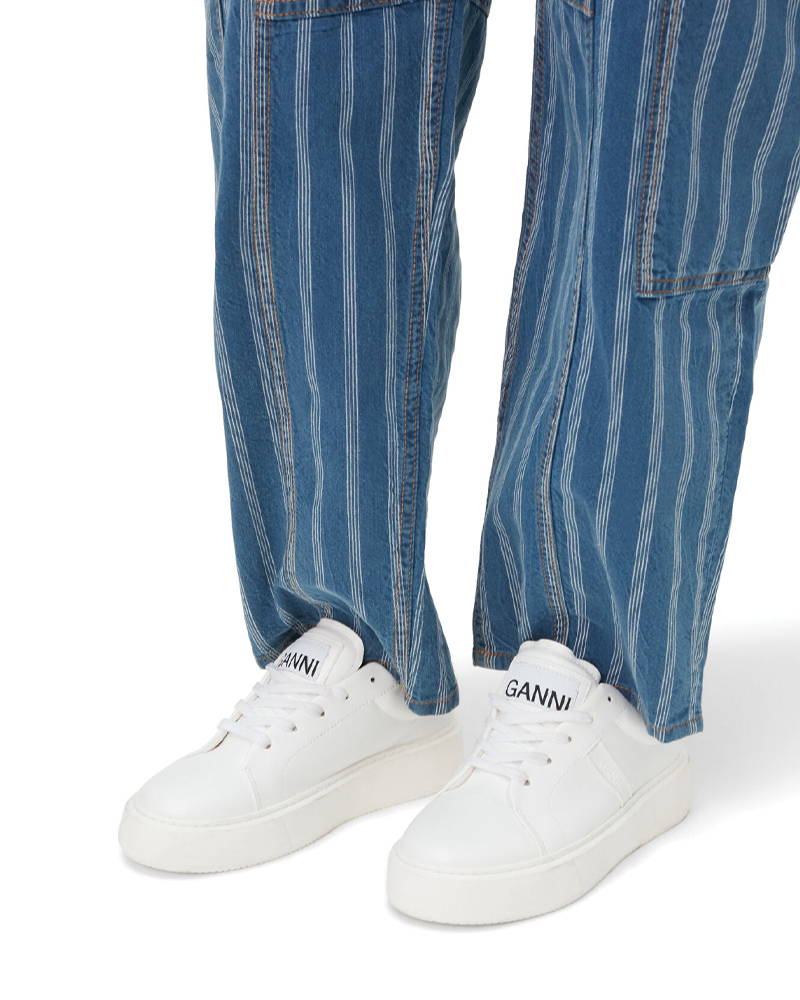 Ganni has been at the forefront of sustainability for a while now, creating their Ganni Lab which is a deep dive into their responsible practices and what they're still trying to work on - well worth a follow. Ganni have committed to phase out virgin leather by 2023 and have been experimenting with different materials. Shoes have been a constant struggle for Ganni as, although they use recycled rubber, a large part of their collection is 100% PU leather, i.e. plastic. Of course, this is vegan but it's not planet-friendly.

In 2022 Ganni announced its VEGEA™ line of footwear - made with a new material that uses left-over grape skins from winemaking as well as vegetable oils and natural fibers from agriculture. The process requires no dangerous chemicals and 55% of the shoe is bio-based materials. The other 45% is a water-based PU which is a non-toxic resin. Last year Ganni also started working with Mylo™ releasing a limited edition range of wallets and one-of-a-kind saddle bags. Mylo™ is a mycelium based material that is grown in a vertical farming facility powered by 100% renewable energy, and it is also certified bio-based, meaning it's made predominantly from inputs that are derived from renewable ingredients found in nature.
We also wanted to shout out Montreal-based brand Eden Power Corp. Eden Power Corp was founded by Isaac Larose and Florence Provencher Proulx and incorporates the values of eco-consciousness into all areas of the brand and their own lives. They've covered all bases, from using renewable energy, opting to use public transport or electric vehicles, using natural wines as dye, and following a plant-based diet.

Eden Power Corp don't actually make footwear, but they do make some amazing mushroom derived accessories. Their incredible passion for mycelium led them to develop a range of wine coolers and plant growers to sit alongside their hemp and organic cotton ready to wear pieces. As well as a mushroom hat is made from Amadou, a spongy material derived from Fomes fomentarius mushrooms, also known as the hoof fungus or tinder fungus. Each hat is handmade from one mushroom, by artisans in Transylvania.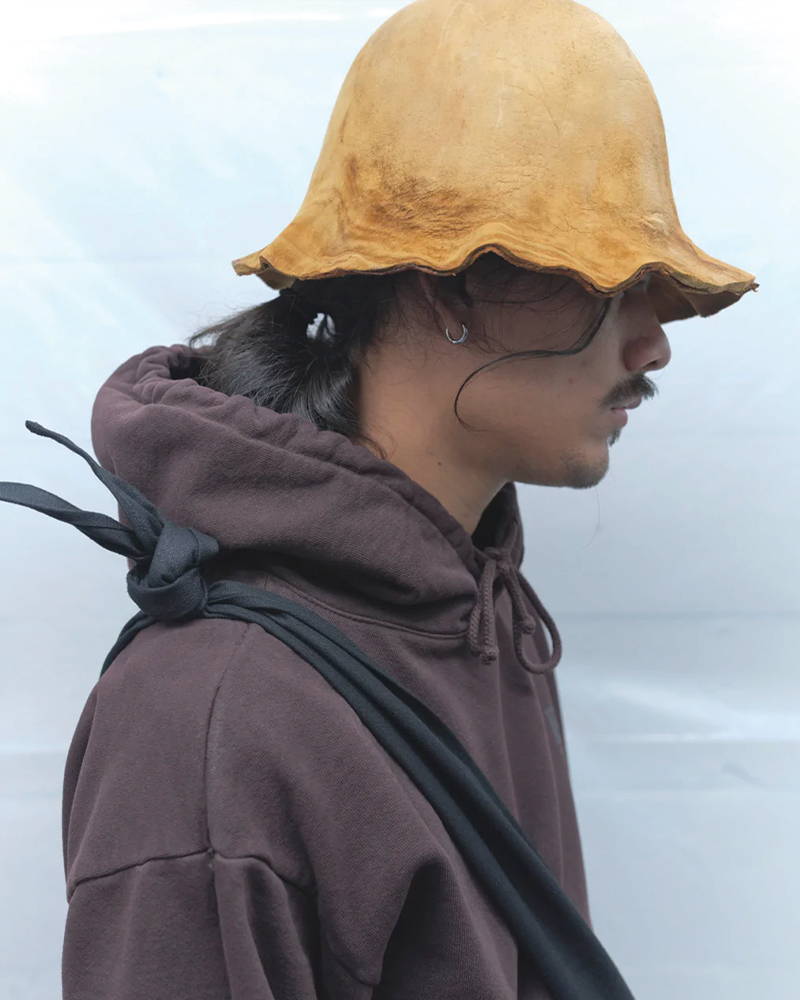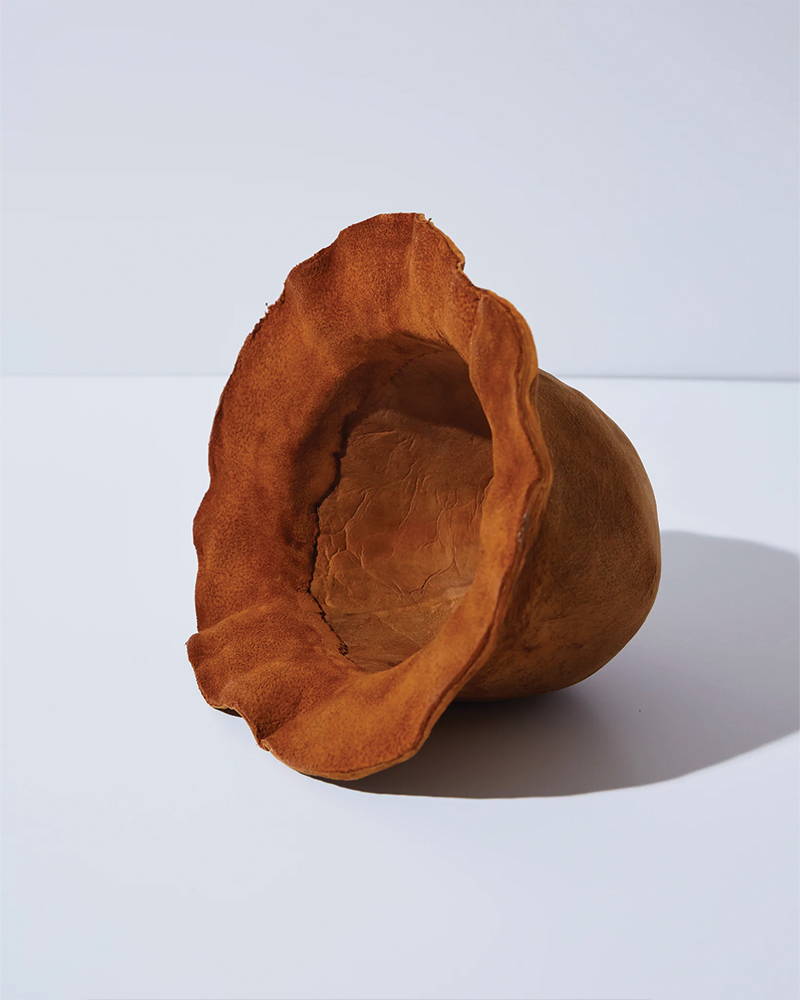 QURC is an Amsterdam based brand using a material we haven't come across in the vegan sneaker world before - cork. CORK-leather is a natural and vegan, water-proof, stain resistant and scratch-proof leather alternative. One of the big advantages of advantage of CORK-leather is that, like leather, it is also said to improve over time "developing character" and become more flexible. Next to CORK, QURC also have a whit sneaker line made out of VEGEA™ grape leather.
Pangaia describe themselves as a materials science company on a mission to save our environment. Like Ganni, Pangaia also use VEGEA™ for their line of colourful sneaker as well MIRUM® leather for an accessories line. MIRUM® is 100% bio-based, a composite material with all raw inputs sourced from virgin or recycled plant matter (agricultural waste). Natural inputs such as rubber and cork are sourced from well-managed forests, with FSC certification. MIRUM® has a patented curative which is entirely plant based and sourced from renewable feedstocks which means this alternative is completely petrochemical-free and eliminates the dependency on fossil fuels.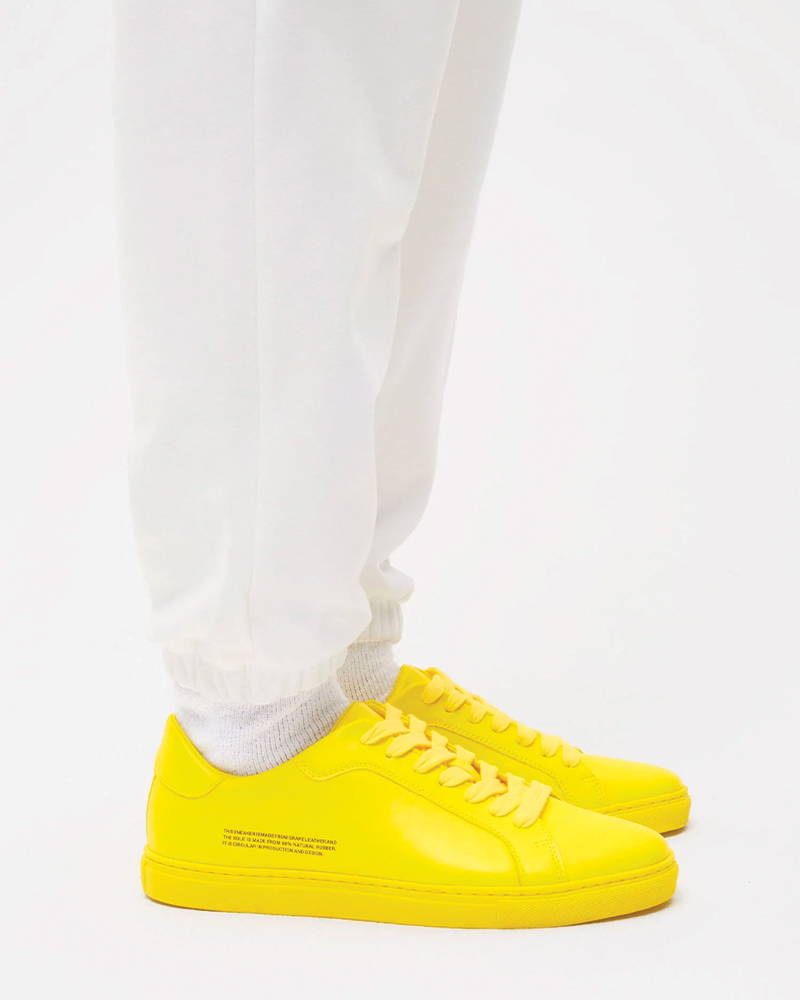 SHOP VEGAN FOOTWEAR BRANDS AT PARO STORE