PARO COMMUNITY GUIDES - EUROPE
Continuing with our community appreciation in the lead up to our 2nd birthday, we take a tour of Europe, curated by some of our favourite brands throughout the region; from Barcelona, to Berlin, Paris to Krakow and of course, our home town of Amsterdam. Each brand reflects on why their local community is so special, and shares their tips on the insiders, community focused guide to the area.
Amsterdam, Netherlands.
What makes your local community special?
We are fortunate enough to have a community which shares our values when it comes to quality, crafts(wo)manship, and sustainability. A lot of them are pursuing their own creative endeavours, and it's amazing to see this conscious mindset be reflected in all sorts of things, whether it's food, coffee, design, and even music. It genuinely feels like we're moving into the direction of a 'slow living' lifestyle, which is exciting to see.
If we visit, where should we go?
The beauty of Amsterdam is a village aka one big neighbourhood, so you can easily visit all of these places that are spread out across the city: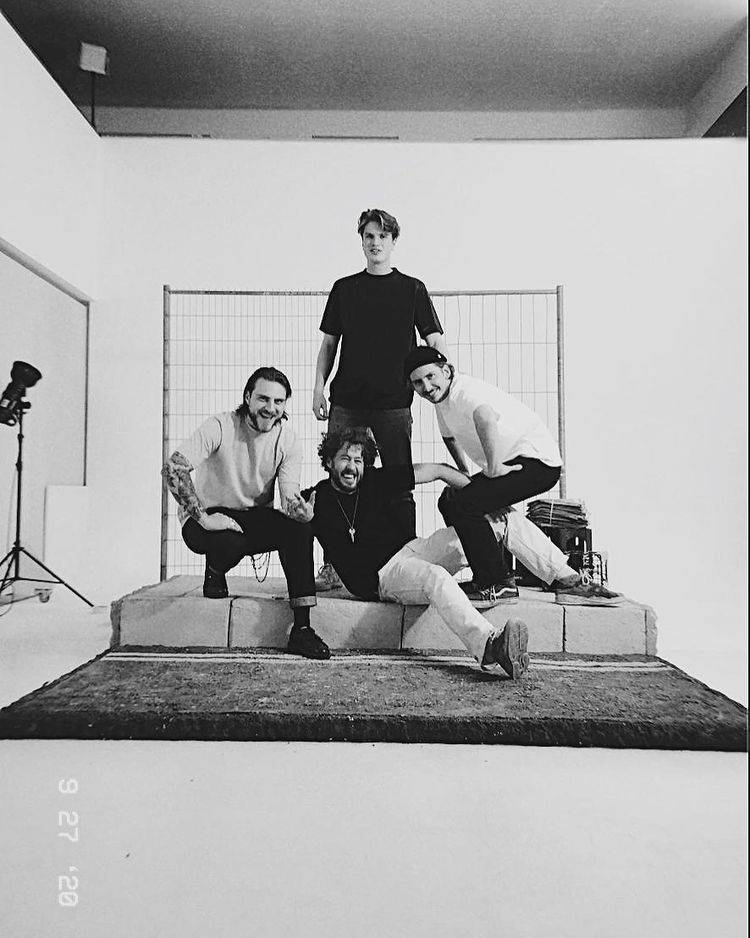 Full Circle founders Max, Constanin, Mark and Wytze.
Nona lookbook shot in Rotterdam,
Rotterdam, Netherlands
What makes your local community special?
I'm currently based in Rotterdam (my hometown). But the brand was founded in Antwerp - a city I lived in for a long time and one that I'm still very closely connected with! I moved back to Rotterdam so we could be close to my parents (because I had a baby girl) and close to our oldest friends. These people are my community. What I love about Rotterdam as well is that it's very centrally located, and it's easy to travel to friends in other parts of Holland or back to our friends in Antwerp - I'm someone who likes to stay connected and go to other city's/countries a lot.
If we visit, where should we go?
A few of my favourite things to do in the Rotterdam area:
De zure bom, located at Weelde. For a great breakfast or lunch and glass of natural wine.
On Saturday there's the 'oogstmarkt' - a great place to get some local, organic food.
Check out Nani Studio: Serena makes the most beautiful handcrafted clothing from flower dyed fabrics.
For some handpicked vintage fashion items: The New Studio organizes very cool pop-ups!
Stockholm, Sweden.

What makes your local community special?
"It's small city accessible by foot or bicycle with a lot of talented creatives from film to art and music all around us. Long nights in the summer are a special time of year to visit."
If we visit, where should we go?
"Go to Södermalm area which is easy going, and visit this super small newly opened Italian restaurant - Gazza*" (*named after the iconic 1980s British midfielder, of course.)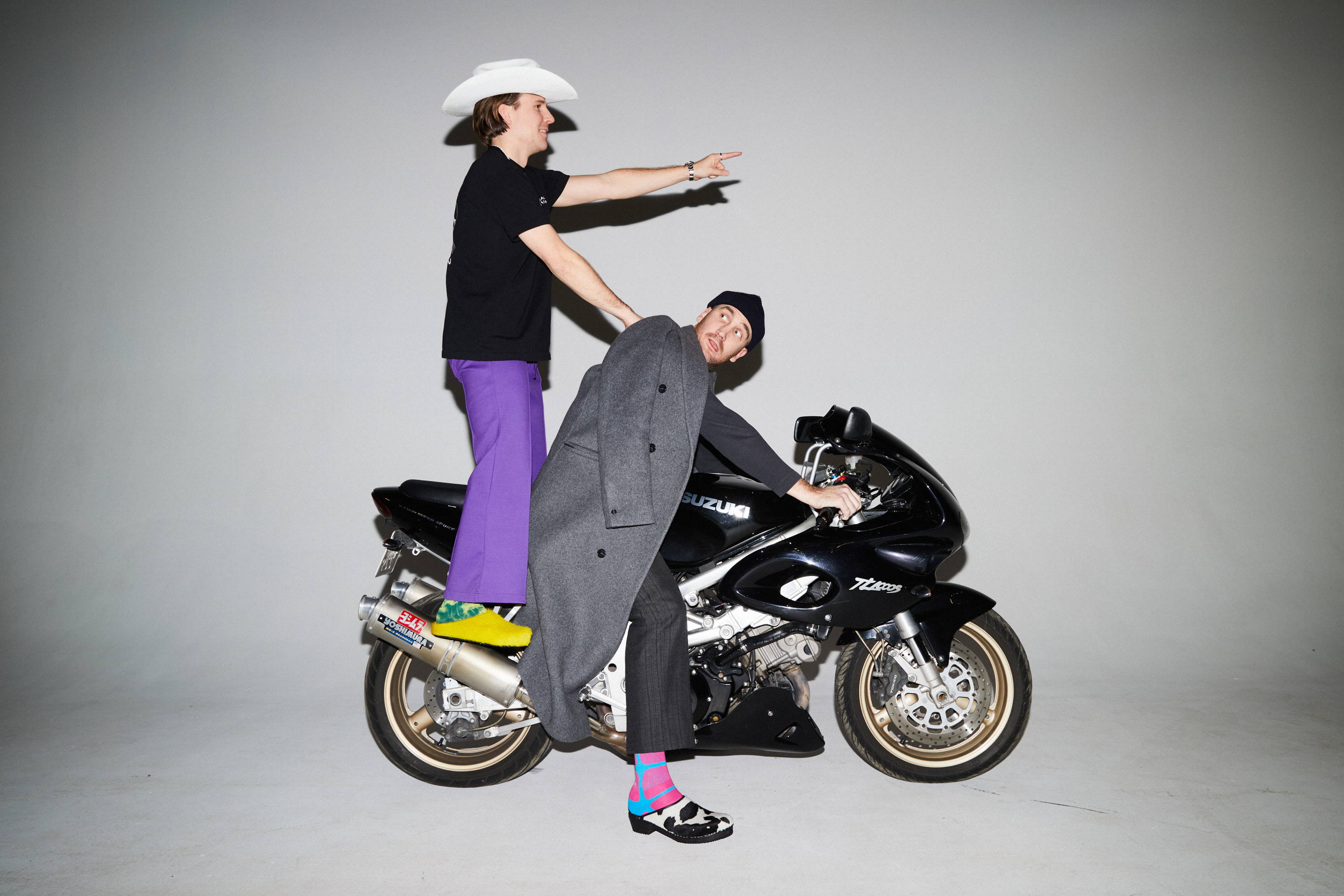 Socksss co-founders, Oscar & Sean.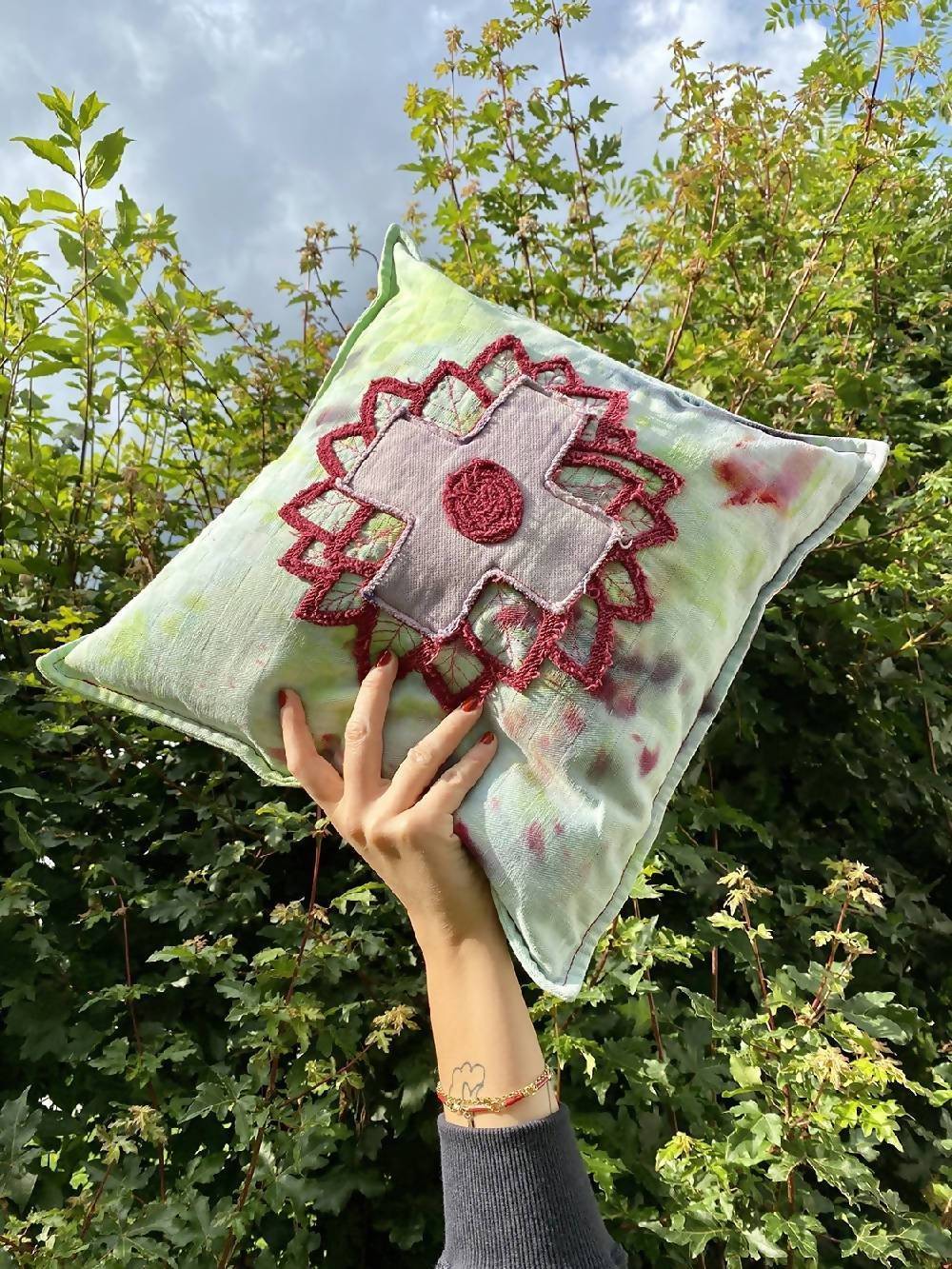 Suisse flower pillow, by Sottes.
Jura, Switzerland
What makes your local community special?
Being the youngest state of Switzerland, we have a community that once fought for their independence; giving a real sense of togetherness.
If we visit, where should we go?
We are located in the country side with many mountainous paths for walking and restaurants that rely on local produce which can be traced back to its origin.
Maison Wenger
is a gastronomic restaurant in Le Noirmont. They are as local as possible.
The
Auberge de la Bouège
is located on the riverside of « Le Doubs », the river separating Switzerland and France. Their terrace is beautiful and their speciality is the trout.
After eating there, you can enjoy a beautiful walk on the side of the river.
Otherwise you can also walk around the «
Etang de la Gruère
», it is a natural reserve where you can walk all around the lake and even having a swim in the summer. This lake contains natural minerals that are good for the skin.
Krakow, Poland.
What makes your local community special?
Kraków is a place where time flows slower. My studio is located in a quiet and green neighbourhood where you can find very nice local places run by amazing people. Everybody seems to know each other here. That's why it is easy to participate in a friendship based net and find access to whatever you need from self-grow vegetables, bicycle reparation or coffee grinder. We support each other and build an open and friendly community. Since we live in complicated times many of us became activists or started to run NGO's. It's good to be surrounded by people who care for others in need. This makes my local community so special.
If we visit, where should we go?
These place are all independent, small and including activism - and in many of the spots below you will find some Pat Guzik collection or prints by our graphic designer, Mateusz Kolek.
Ranny Ptaszek
(Early Bird). Vegetarian/vegan breakfast bar run by the
mom and daughter team
.
Naturaliści
- a small natural wine shop
with
exclusively on organic, biodynamic and
natural wines
.
Królowa
Przedmieścia
– The perfect place for coffee fanatics, run by a very nice couple, located in a quiet place in Dębniki district.
Lucky Girl Vintage
– Located in Podgórze District, with
a carefully selected
collection of quality and vintage clothing and accessories.
HasztagRzM
- A paradise for
collectors of antiquities and old stuff. There you will find items with a past, a
beautiful story
.
Zaczyn Piekarnia
– Not only bakery, also a place of activism.
Expect good, plant-based food and
bread using ingredients from local sources.
Ato Pracownia
– Super friendly ceramic studio in the heart of Dębniki district, where you can learn how to make pottery.
Turnusy
– a consignment store by Ania & Ewa. Two amazing people who
give a second life to the "excess" we all have at home.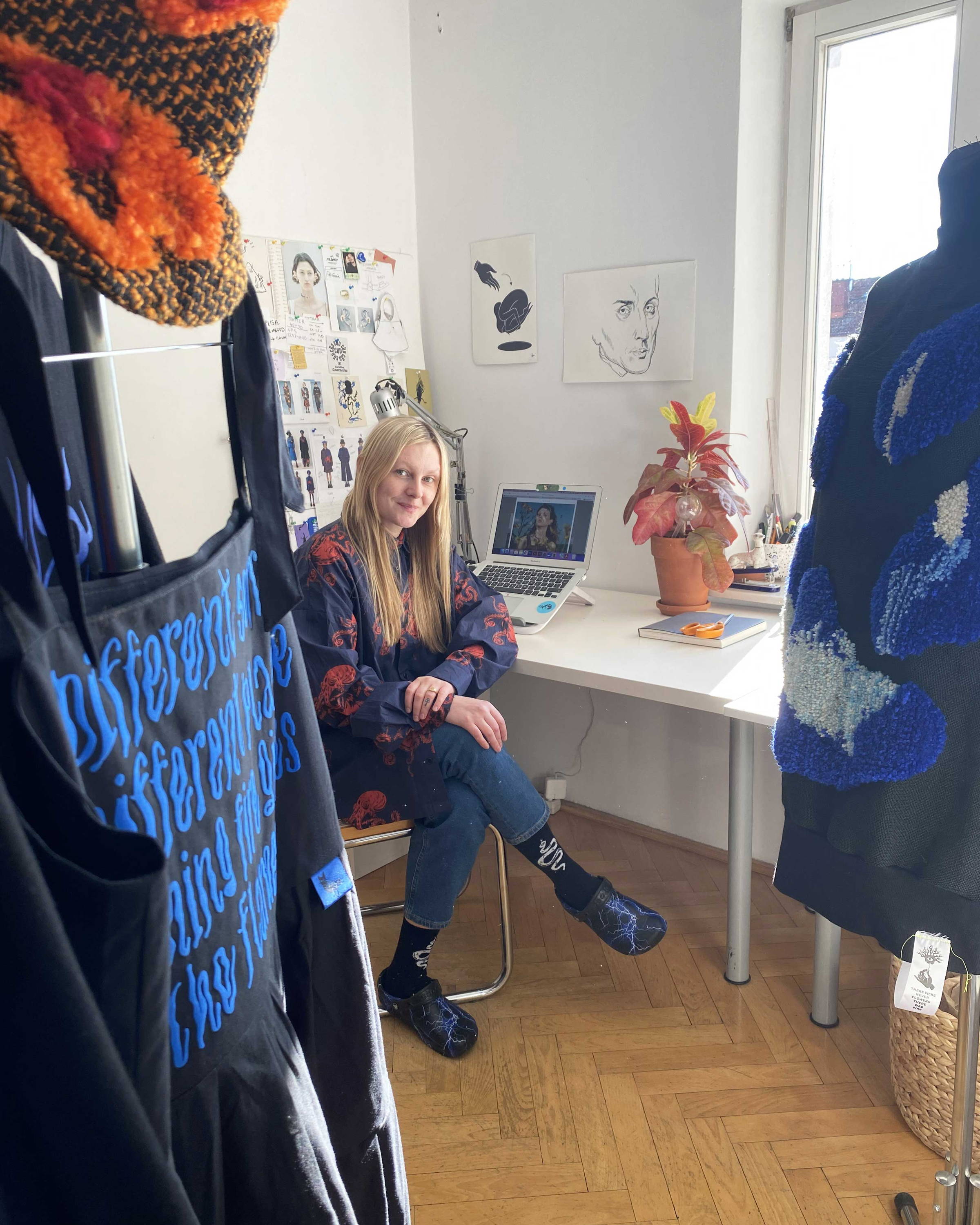 Pat Guzik in her Krakow studio.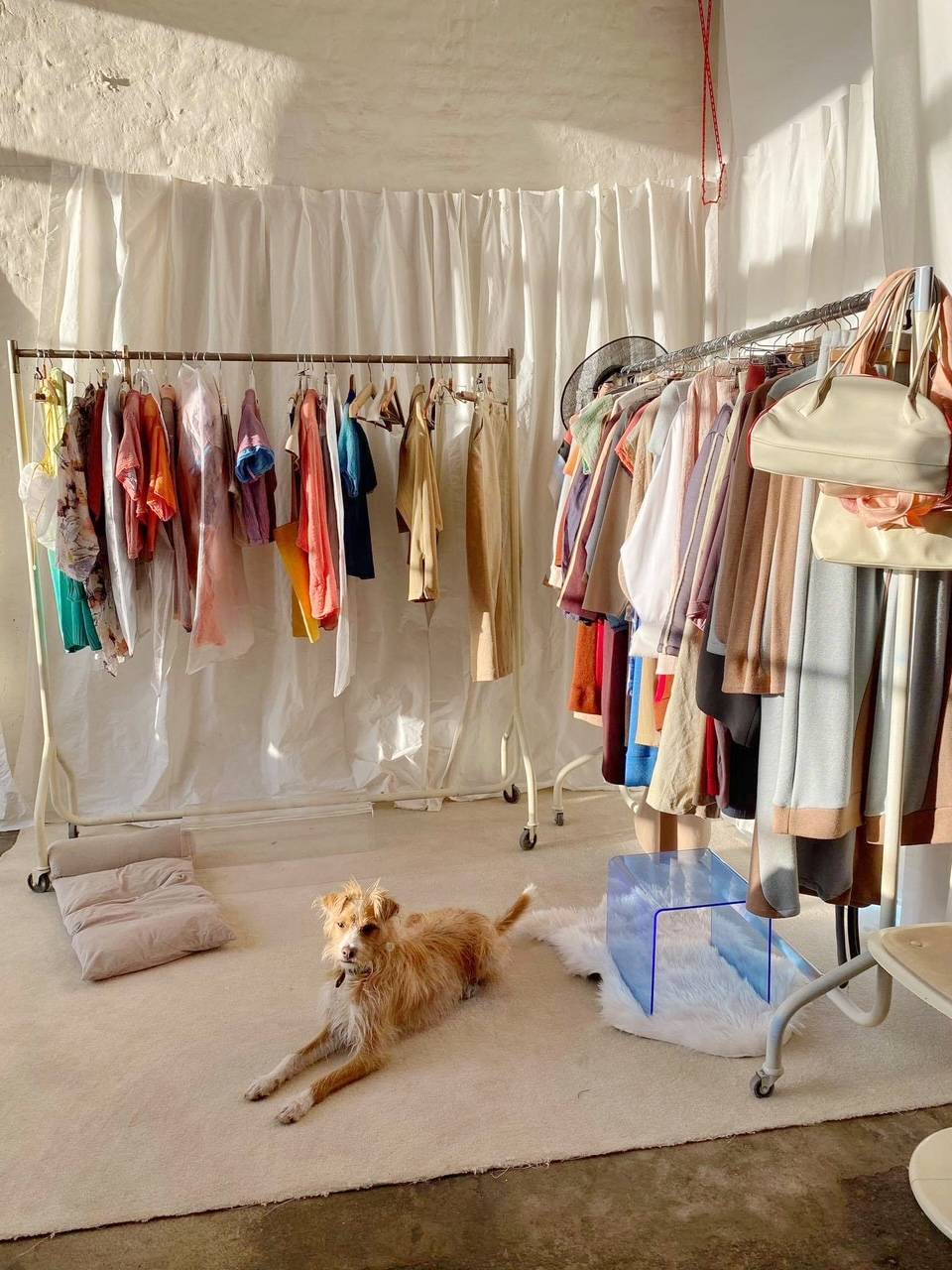 Halo Labels Berlin studio.
Berlin, Germany.
What makes your local community special?
Halo Labels is based in Berlin where we have our design office, but I am from Poland where I also produce and am resourcing textiles mostly there. Berlin is very mixed on so many levels, there is space for every one in terms of culture, socio economical , background, this makes is really interesting. But there is also the highest density of people with an artistic background city than any other city I guess.
If we visit, where should we go?
When you are visiting Berlin you should definitively do it in spring or summer to feel the vibe of the city. When you are here:
Take a coffee in Two and Two or Albatross and go the Hasenheide Park or Volkspark Friedrichshain or take a walk on the Maybachufer canals where you can find either a Turkisch or flea market depending on the weekend. In the evening gallery opening in Schoneberg or KW Mitte, then head for drinks to TV Bar.
Barcelona, Spain.

What makes your local community special?
I am originally from Brazil, but I have lived in Spain for many years, and I am based in Barcelona :) Barcelona is a great place to connect with people from all over the world, so since the beginning all the women involved in the different steps of the brand are from different parts of the world which live here, For me it is very special as we can create a community with different cultures and deal with things in different ways, and also connect with creative minds with a different backgrounds and point of view.

If we visit, where should we go?
I personally like a lot a place/ neighborhood called Montjuic, it is a green little forest paradise inside the city, is perfect to have a walk and also have a view uphill of Barcelona. Also you can find some "chiringuitos" there, which are called the open little bar/restaurants, and have a coffee/beer with a view. Like La caseta del migida, which also has some concerts during the weekends.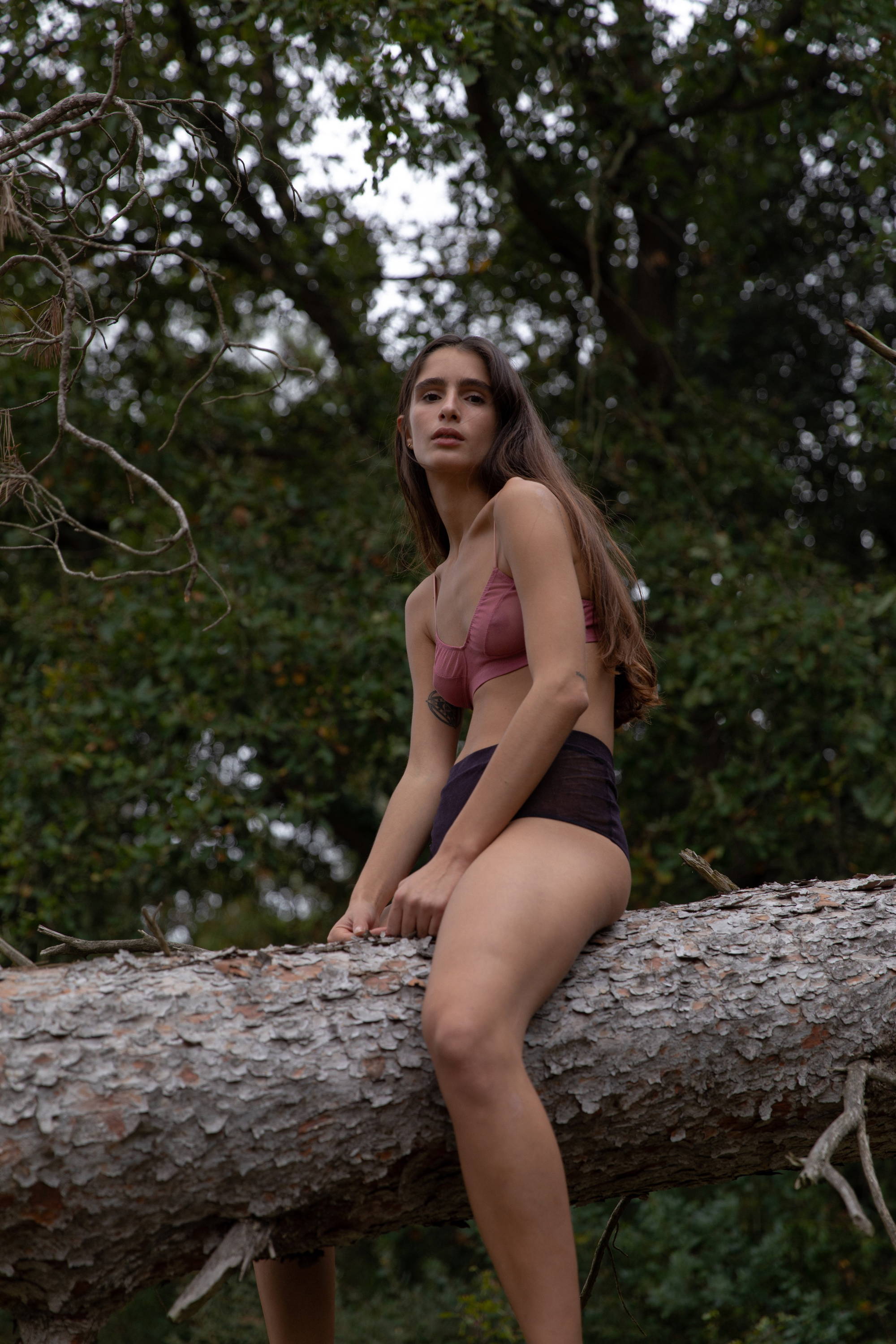 Céu Label campaign imagery, shot near Barcelona.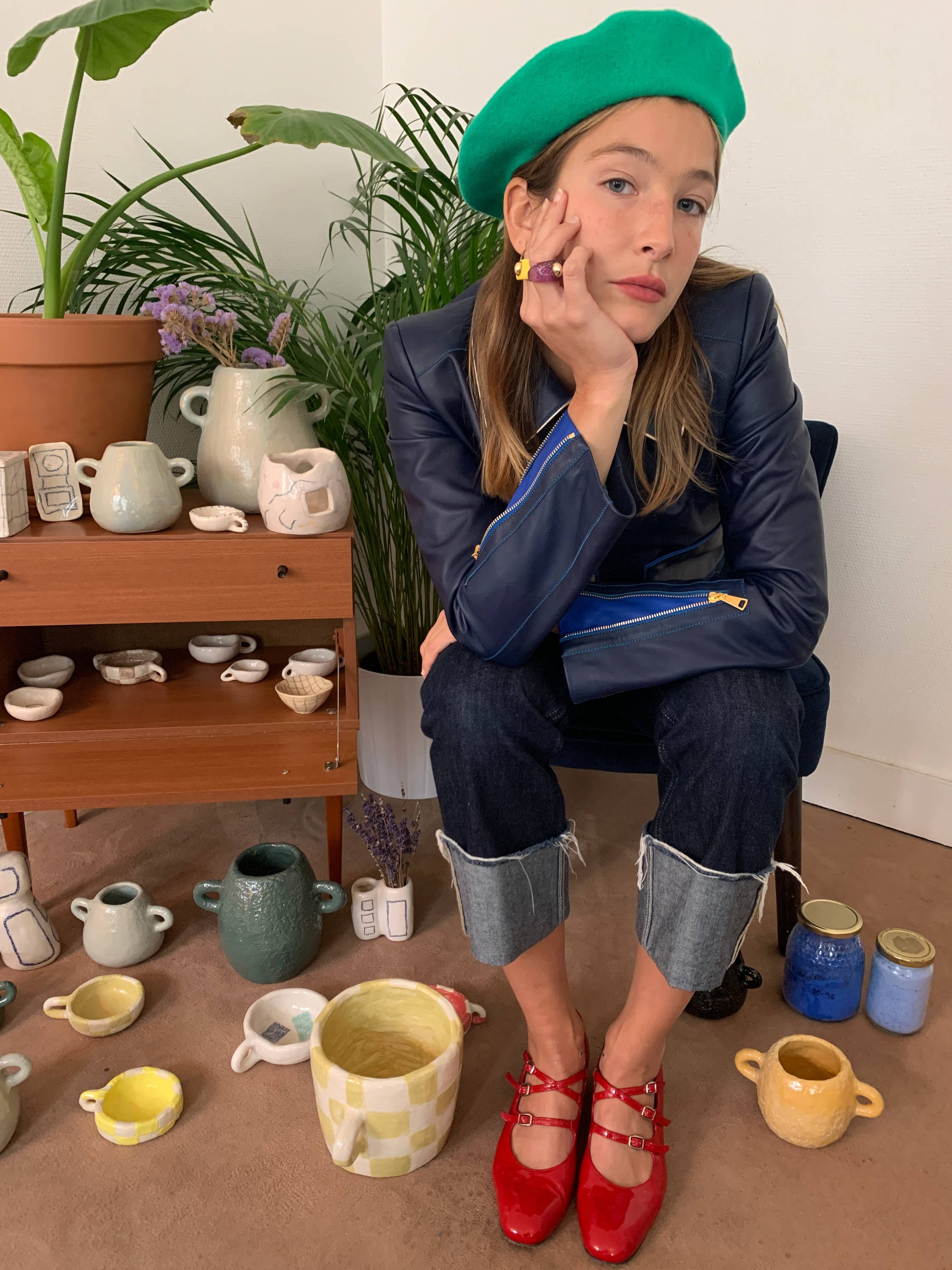 Sophie, founder of Sophie Ceramica
Paris, France & Lisbon, Portugal
What makes your local community special?
I moved to Paris 2 years ago, I love to be here because I feel I'm more free and somehow anonymous. I grown up all my life in Lisboa, a small city, so it's easy to know everyone that has kind of the same interests and way of living… Paris is much bigger compared to Lisbon so I have less distractions. I have learned to say no to people and everyone is more independent and individualist. I feeI can focus better on my work. I also feel in Paris people are generally more cultivated and curious than in Lisbon, and that is very stimulating. But I travel a lot to Lisbon to absorb the good vibes and the good part of the Portuguese dolce far niente haha.
If we visit, where should we go?
In Paris I do all my grocery shopping in a place I love called MIAM next to where I live (small producers and very fresh veggies and fruits and a bit of everything), I love to grab a coffee at the Partisan cafe and I love to do vintage shopping at Thank God I'm a VIP.
In Lisboa I go to small and classic Portuguese restaurants a lot (Sinal Verde, Verde Gaio, Gambrinus), I go a lot to my friend's bar (Vago) to have some good wine and listen to good music and I spend a lot of time in my local garden (5min away from home), Jardim do Príncipe Real.
Paris, France
What makes your local community special?
Our HQ's based in Le Marais, Paris. It's a cool, old-world neighbourhood, the centre of the local LGBTQ+ community as well as the fashion quartier.
Paris has that famous je ne sais quoi, a uniquely nonchalant vibe that's difficult to describe. What's so special to us, though, is the city's people. We're always down to collaborate with creatives of all kinds, and Paris has this to the max; a melting-pot of fashion, food and art connected by free-thinking and chic design. When it comes to creative energy, anything goes here, and we're blessed to be part of that.
If we visit, where should we go?
One of our favorite places has got to be Aujourd'hui Demain, a family owned vegan restaurant, cafe and store. We think everyone at least once in their life, vegan or not, needs to try their homemade vegan mozzarella and/or burrata!! As a dessert, get a slice of the Matcha layered cake - you won't regret it.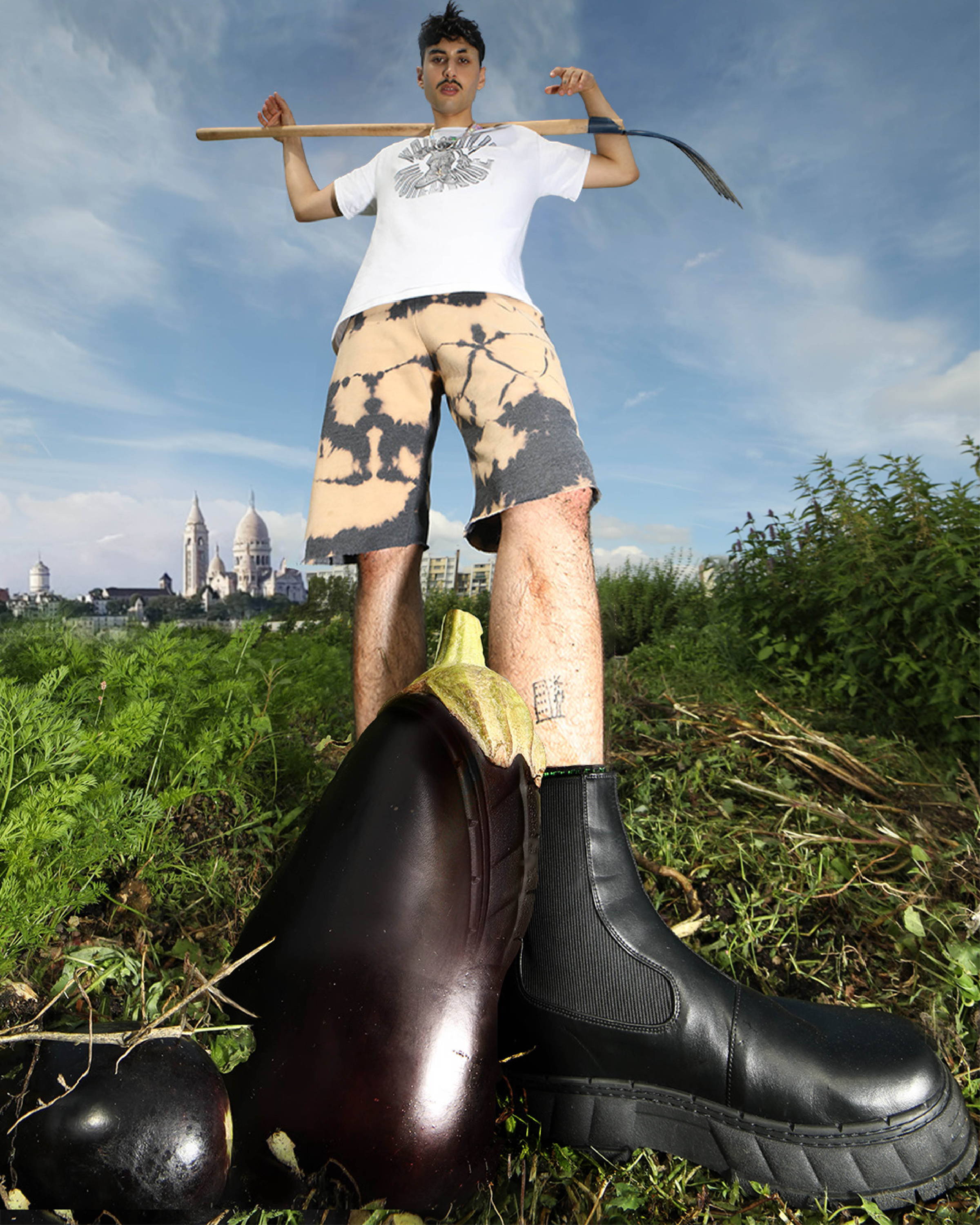 Virón campaign shot near Paris.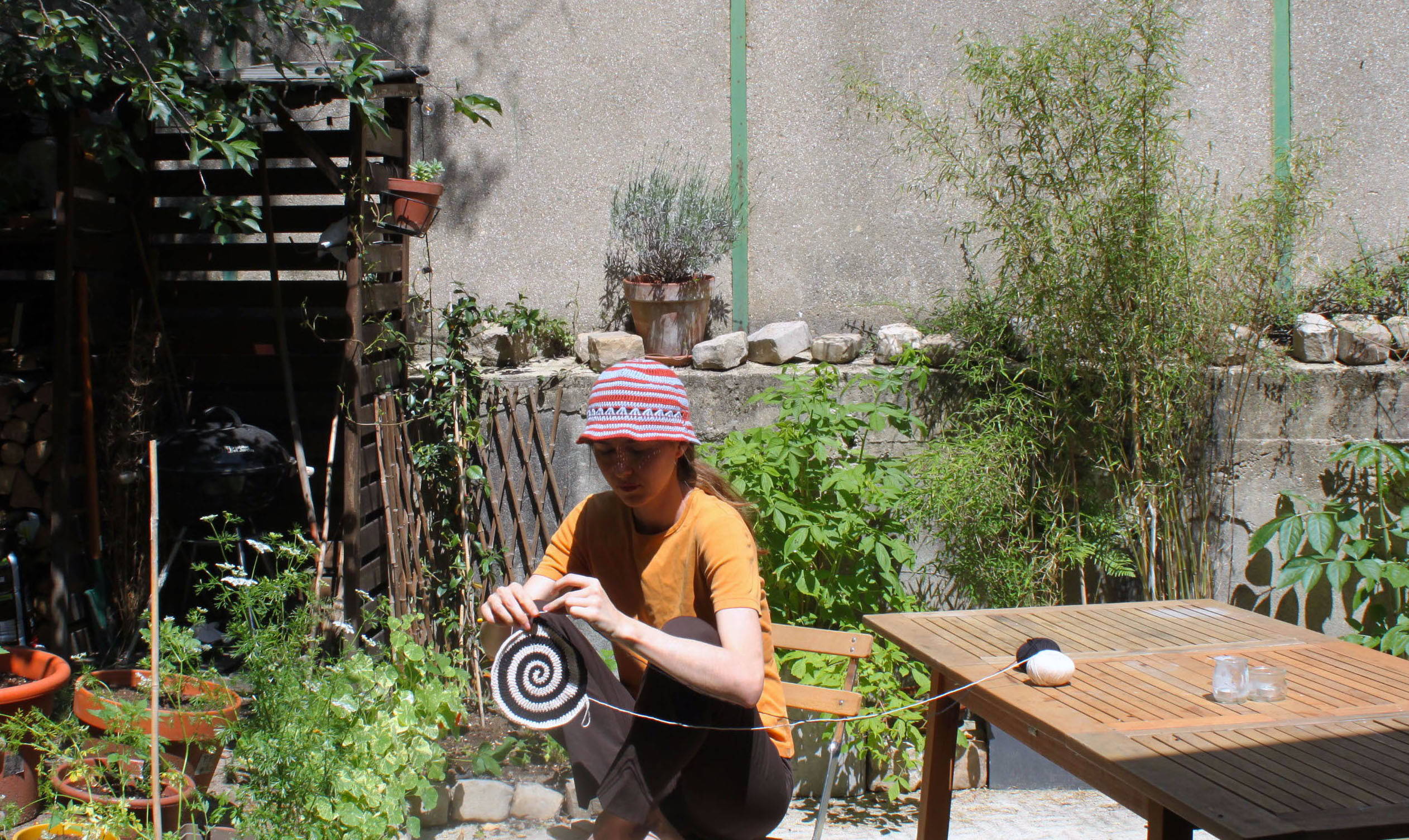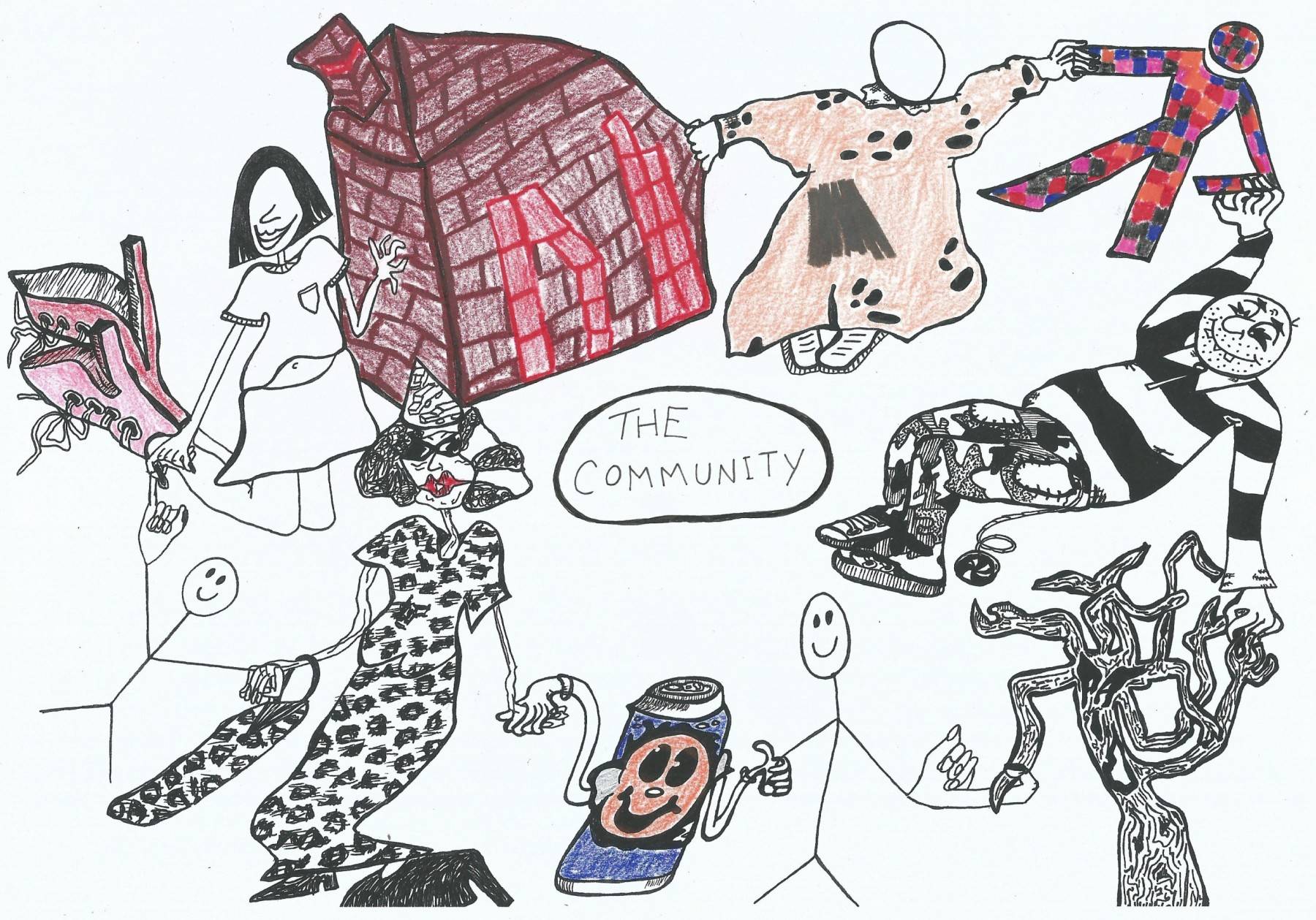 Par Cielle founder Cielle crocheting, and 'The Community' Paris.
Montreuil, Paris, France.
What makes your local community special?
Montreuil is a short metro ride, just on the outskirts of Paris, but it's a very unique extension and contrast to Paris. Some would say it is the Brooklyn of Paris. It is calm, down to earth, multicultural and artisanal.
If we visit, where should we go?
Unlike Paris, Montreuil isn't composed of high fashion and historical monuments. However, it has a strong sense of community and sustainable living. I would absolutely recommend a visit to the 'Murs à pêches' collective gardens, on top of the hill, overlooking Montreuil. Anyone can visit on Sunday between 14:30-16:30hr. During the spring and summer, multiple community events are organised, including music, artisanal stores, workshops, exhibitions, tours and more. Children can run free throughout the permaculture style gardens while you learn how to make bread, compost, identify insects or create crafts with local artisans.
I'd also mention 'The Community' in Pantin, also on the outskirts of Paris. A collective art and performance space which brings together many local and international artists. The space holds events every other weekend, where you are sure to always bump into someone you know, while sipping on some wine in the parallel garden, occupied by the company.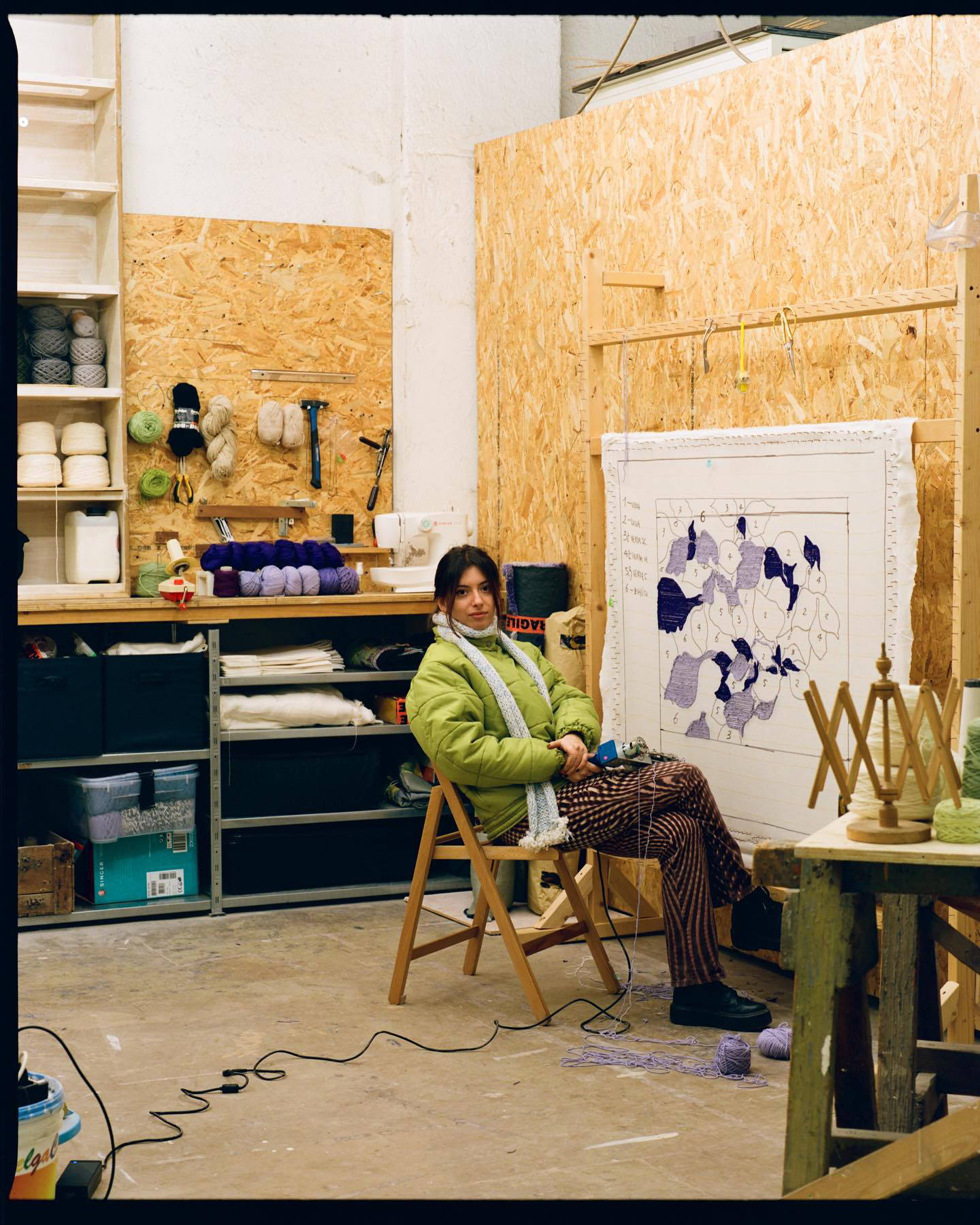 Keti in the studio, photograhed by Mattia Diodato
Milan, Italy
What makes your local community special?
Milan is varied, however chaotic and hectic it is, you can find your space anywhere.
If we visit, where should we go?
Definitely take a a walk, run or bike ride along all the Navigli of Milan, especially Naviglio della Martesana and Naviglio Grande (keep going as far as possible from the city).
Discover even more European brands in the PARO community - we've got over 50 at the last count :) So if you're living in Europe and looking to shop closer to home, you can filter the store by region to find only European based brands. Visit the menswear or womenswear section, and choose Europe in the regional filter to see all the products from UK menswear and womenswear brands.
To find out more about all of our brands and the hidden gems they recommend checking out in their local communities, read our Community Guides to the UK and 'The World'.
If you enjoyed reading this blog post, you'd probably like our newsletter too - every week or two we share store updates, good design news, and occasional offers for insiders only ;) Sign up below.