NICE GIFTS™️ FOR A SUSTAINABLE CHRISTMAS
The season of giving is almost here and we are here to help you GIVE NICE™. To us, giving nice is all about taking a considered approach to WHAT and HOW you're giving; making small changes to your present buying routine, and choosing more sustainable Christmas gifts.
Having a sustainable Christmas can be HARD, not least because it's a moment of mass consumption and marketing madness that it can be impossible not to get caught up in. Households typically spend around €1,000 extra at Christmas, and there can be a lot of pressure when Christmas gifting to get more and bigger gifts, and with busy lives we often end up buying in a panic or last minute…. none of which ever led to a good decision (for me anyway!)
The NICE GIFT SHOP™ by PARO STORE is full of more considered ethical and eco-friendly Christmas gifts - unusual, handmade, packed with care by a small business owner, organic, planet-friendly, cruelty-free, and rubbish...that's been re-made into something great! If you can't find what you're looking for in the NICE GIFT SHOP™ just send us an email to whatsup@parostore.com and we'll give some personal advice to help you find something NICE for your friends and family.



THE NICE GIVING GUIDE™ - WHAT ARE SUSTAINABLE GIFTS?
Giving gifts is and should be a joyful thing to do so we made four simple tips on keeping all the JOY, while taking a more sustainable approach that involves more than simply buying environmental gifts for Christmas
:
1. START EARLY (that means now!)
You have time to buy made-to-order if you shop early - this avoids waste by buying products that are made just for you, but normally take a few weeks to be made.
Avoid next day delivery, which is a much higher impact vs slower delivery method when you shop earlier.
Eliminate panic buying - take time to choose the best eco-friendly Christmas gift.
Take billionaire CEO's who exploit their workers off your Xmas shopping list they've been bad boys and girls and don't deserve any extra profits.
Spend your money with small and local business who do things the right way and with care for the planet and society. Especially in the current financial climate your purchase really could help keep them in business! Our NICE GIFT GUIDE ™ can help with that...
3. MAKE EVERY PRESENT COUNT
Don't add to the pile of presents that go to landfill every year.
No joke presents... that includes secret Santa, sorry.
No 'extra' presents no one needs to be showered with gifts, choose one thing they'll keep forever.
Donate to charity - from adopting donkeys to supporting important social causes; pick a charity close to their heart and donate on their behalf.
Make something - if you're done searching for environmental gifts for Christmas, roll up your sleeves and get creative instead. There's always points for effort in this category.
THE NICE GIFT GUIDE ™ - WHAT WE'LL BE GIVING (& GETTING!) THIS CHRISTMAS
With all the amazing brands and products on PARO, we (founders, Ruth & Zoe) can find it very hard to choose, but we've narrowed it down to our top ethical and eco-friendly Christmas gifts to give or receive. From up-cycled bedding to natural sexual wellness and handmade clogs - we think these are the 10 ultimate sustainable Christmas gift ideas for friends and family who's design eye is matched by their care for the world. These sustainable gifts all have a lighter impact on the planet and a fairer impact on the people who made them, so you can GIVE NICE ™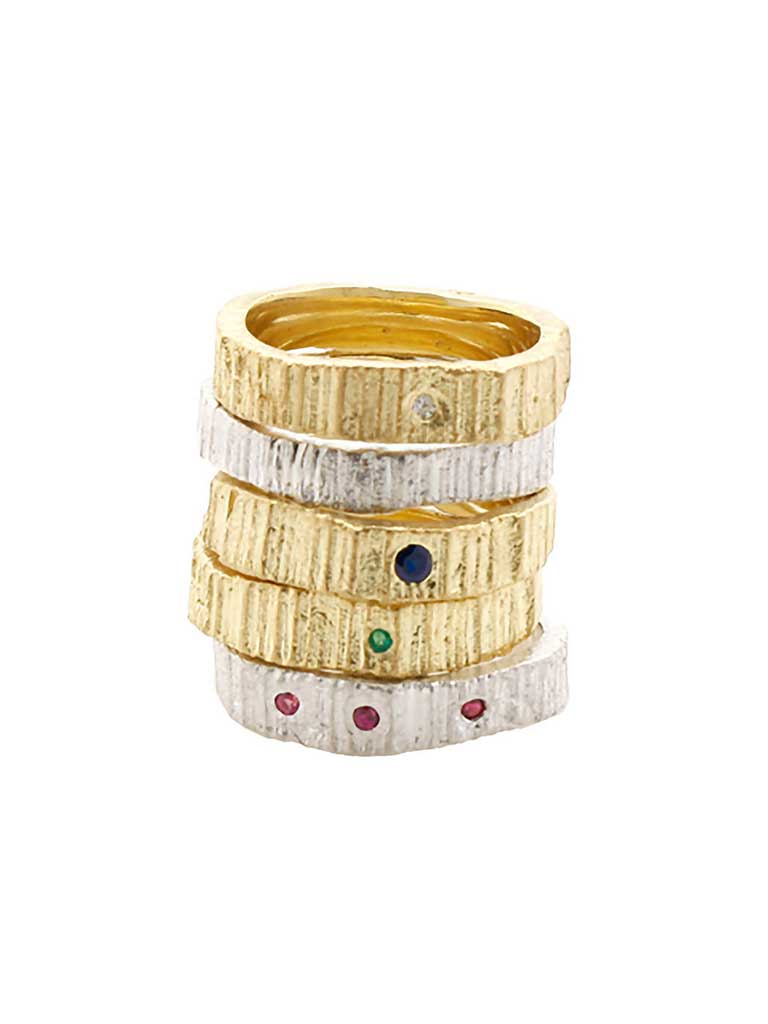 EILY O CONNELL RECYCLED SILVER/GOLD BARK RING
As sustainable ring for all the nature lovers out there - the bark ring is cast from sea bark found along the Irish coast which gives it a beautiful, undulating organic texture.
Eily O'Connel is a Bristolian jeweller who works with recycled metal and fairtrade gemstones making all of her jewellery in her studio in the UK. There is enough silver and gold mined already and recycled metals are refined to exactly the same quality as newly mined metals, so recycled metals is the responsible jewellry choice.
Each piece of jewellery is made to order, just for you, and will be packaged in recycled materials to ensure minimal impact on the planet.
KEMKES BLACK QUILT BUCKET HAT
A one-of-a-kind bucket hat by Kemkes that's made from light-weight used home textiles that have been up-cycled with heat pressed paisley flower quilt pattern for a technical feel.
The whole process in making the hat takes place in Amsterdam. The materials are locally sourced and selected by Luca Kemkes, before being restored, cut and sewn at an ecologically minded tailors cooperative here.
Kemkes' use for ornamental and manipulated recycled materials, combined with modern-day sportswear and streetwear silhouettes makes this a truly one-of-a-kind gift.
SKARV MULTICOLOUR SCARF CLOUD
A classic and practical gift with a graphic design twist. A high-quality, bold scarf made from 100% Woolmark certified merino wool from Italy, and produced in Almere, Netherlands.
Not only the design but the material make this a really special gift. Made with merino wool which is a natural fibre that's high quality and super soft against your skin, it also cleans itself, and stays smelling fresh and you don't have to wash it very often (much better for the world!)
SKARV started in 2020 as a creative project combining a passion for visual and fashion design in colourful scarves made for friends, the brand and production approach has grown organically from there - a fledgeling brand to support and watch them flourish!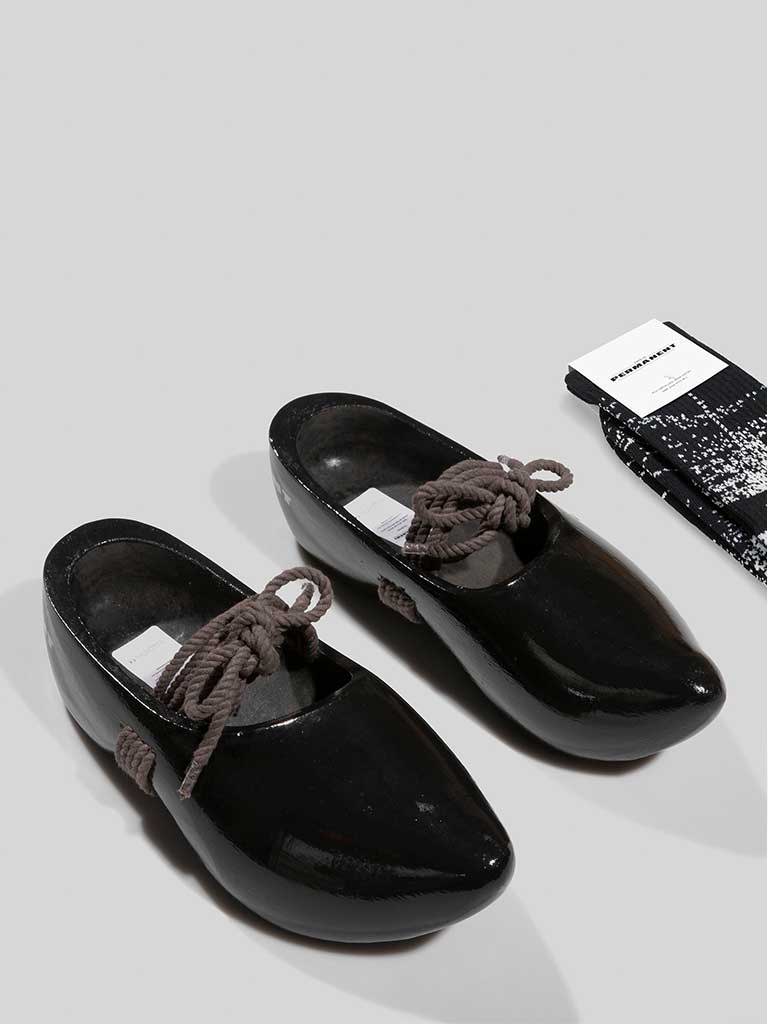 PERMANENT CLOGS
Get the Balenciaga look with a smaller footprint and better ethics. These ergonomic clogs are handmade in The Netherlands from 100% willow wood and unlike the typical tourist souvenirs these are actually super comfy and made to be worn.
Permanent is an Amsterdam based brand striving to reflect the unique individuality of the fashion culture through conscious collection concepts, in a more positive and sustainable way – a permanent way.
The clogs are painted with water-based black varnish derived from renewable sources with rope laces made from 100% recycled cotton that are natural dyed using extracts from wood of the Acacia Catechu Tree and iron sulfate.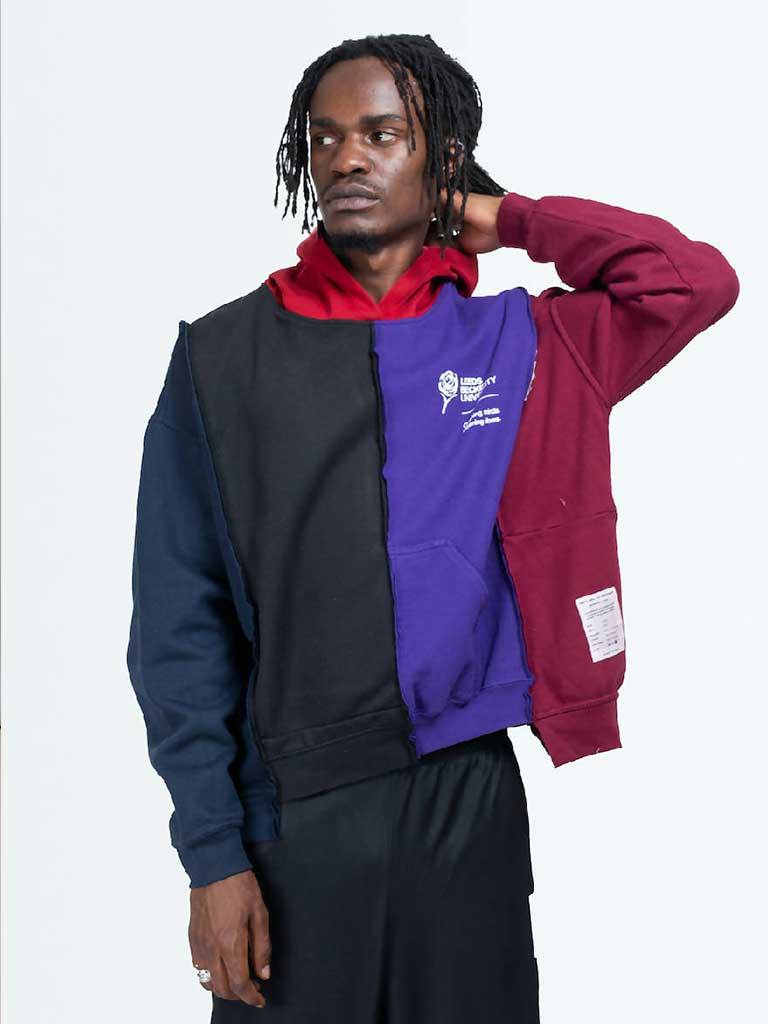 BUZIGAHILL LEEDS BECK FOUR PANEL HOODIE
The four panel hoodie is made from second-hand clothes that have been sent from the Global North to Uganda. The Kampala based BUZIGAHILL team hand select the garments to up-cycle into one of a kind items, which are hand-stitched in to new one-of-one collection pieces.
BUZIGAHILL is on a mission to return Uganda's textile industry to the peak levels of the early 1970s, when more cotton was processed than exported.RETURN TO SENDER is the first project series by the brand, where they redesign second-hand clothes and redistribute them to the global North, where they were originally discarded before being shipped to Africa.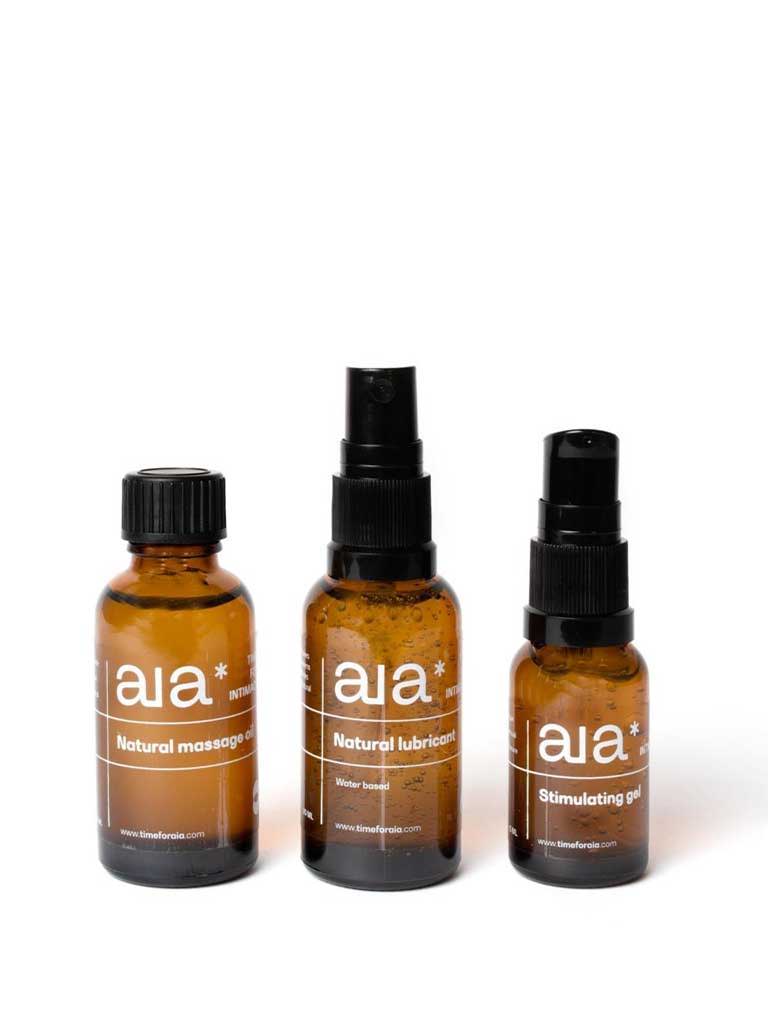 AIA* INTIMACY ESSENTIALS BOX
A sexual wellness trio with natural lubricant, natural massage oil, and a stimulating gel, specially formulated in small glass bottles. All Aia* products are natural, vegan & cruelty-free, and designed to bring intimacy to everyone. Once a taboo to unwrap, we're pleased to see sexual wellness being normalised in the public sphere, and wonder what could be a better gift than pleasure?
Aia* is a sexual wellness brand that aims to increase intimacy with products that fit today's* world - *sustainable, transparent, and for all. Aia* products encourage the user to explore exciting new frontiers and reach new heights in their quest for completion. The trio is an ideal gift to a friend or partner on their quest for pleasure.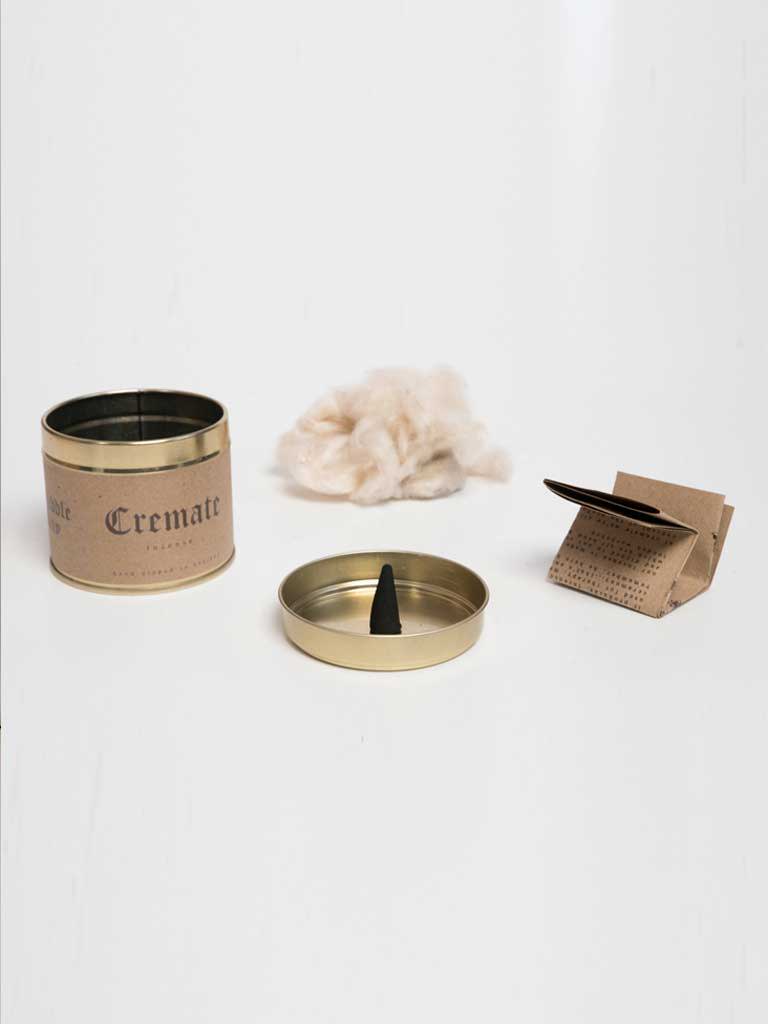 CREMATE NATURAL INCENSE TIN
Handmade in London, using only natural ingredients, Cremate incense is an eco-friendly gift equally suited to a novice burner or a cone-head thanks to their 2 iconic and complimentary scents, and their sustainable and functional packaging; the metal lid doubles as a burning platform, so no extra equipment is required.

Cremate is a project by London based creative Junior Adesanya, bringing modernity and tradition together in natural products. Inspired by Mother Earth, sub-cultures, and the transformative power of scent, Cremate is the antithesis to the commercial and synthetic scent industry.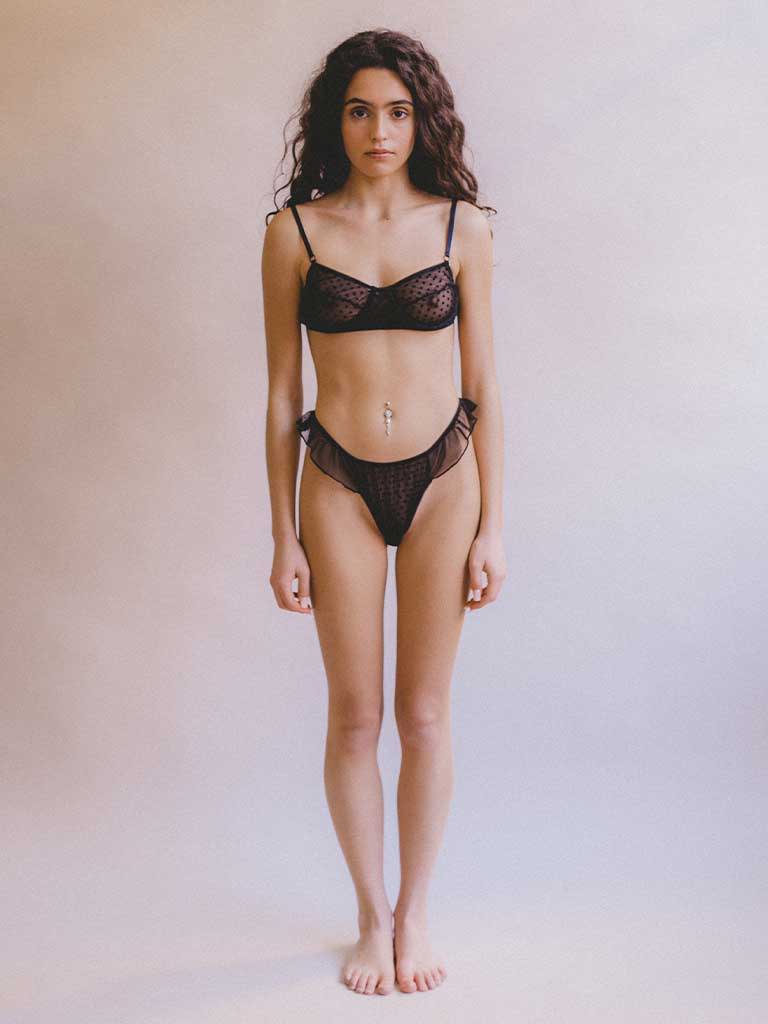 CLO STORIES BLACK DOTS LEILA BRA AND GABRIELLE PANTS
If you've been trying to find the perfect underwear gift, you can stop scrolling. This sustainable underwear set is made from delicate, recycled dots tulle material, with trimming around the upper edges of the cups and ruffles embellished on the briefs that make this the ultimate underwear to feel good in.
Clō Stories is Barcelona based slow fashion brand, that embodies natural and sustainable principles focusing on local production and eco-friendly material choices. Clō Stories designs are named after women in history who inspire them and have fought for women's rights. Which 'Leila' and 'Gabrielle' do you think these designs are honouring?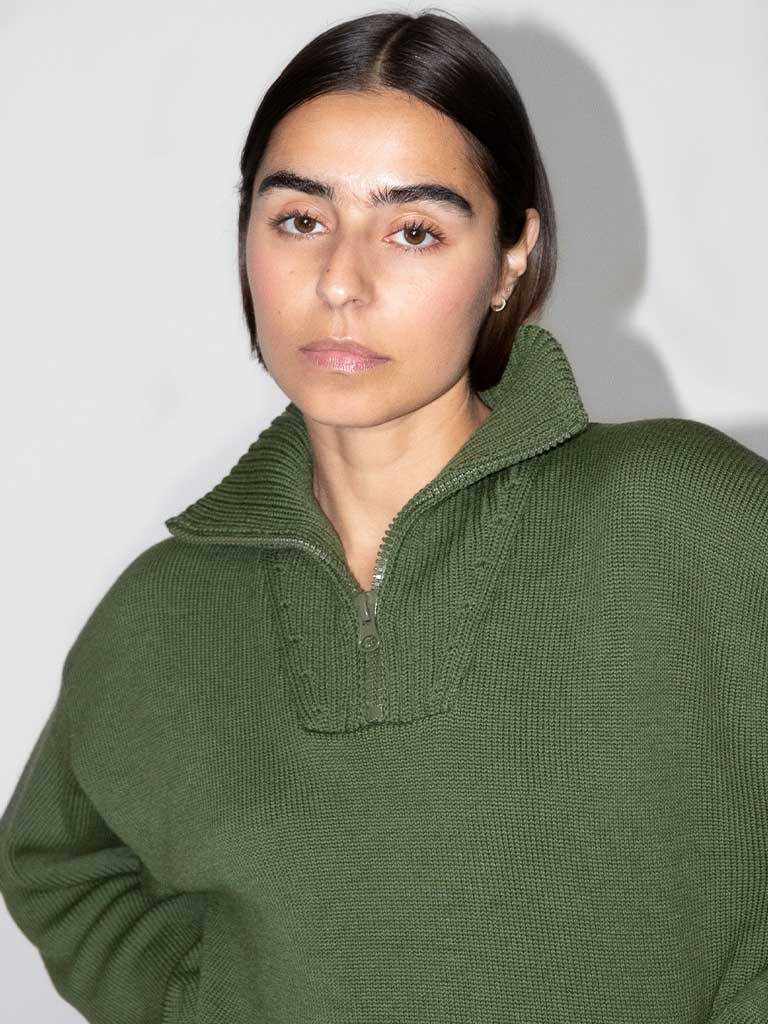 RHEA GREEN HALF ZIP SWEATER
Cropped half zip sweater knitted from Rhea's signature 19.5µ Merino wool, with ribbed collar, cuffs and hem.
Rhea have a deep respect and knowhow towards the sheep, product and the people working to produce their collections. They work with hand-selected farms, and ethical factories, that have been carefully chosen based on their commitment to animal welfare, environmental and socio-economic practices so you can be confident your gift has been made in the best way with sustainably sourced materials.
Every Rhea piece comes with a QR code on the label so the receiver can trace exactly how their new item was made - from wool to wear.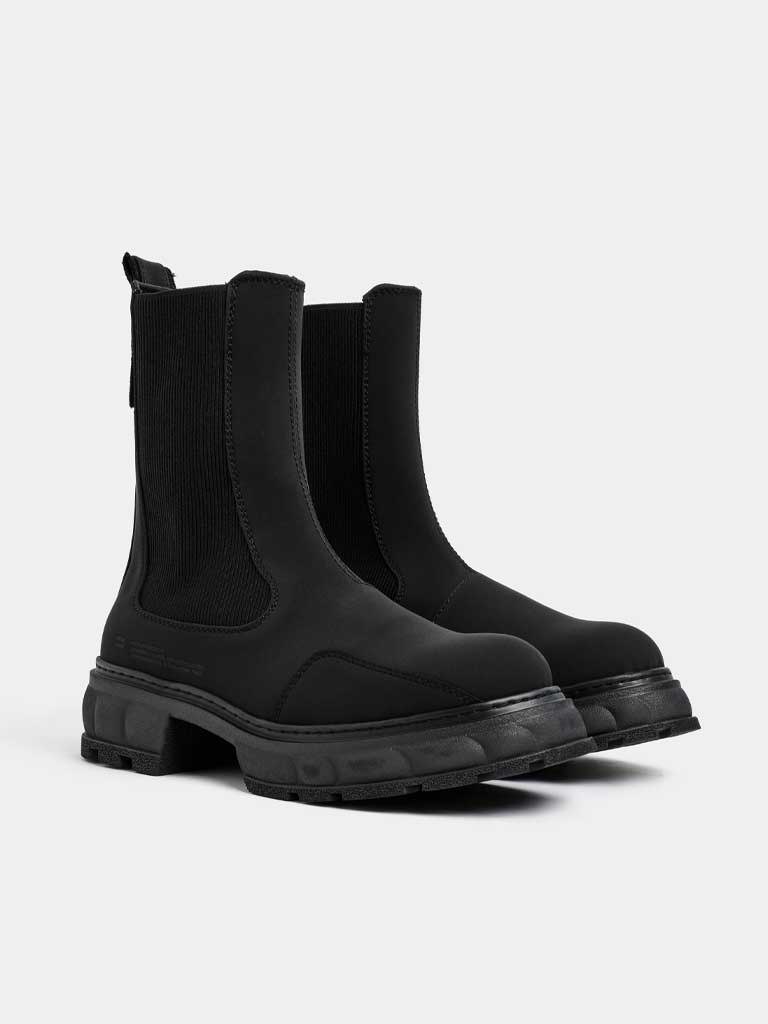 VIRÓN PARADIGM BLACK APPLE X BOOTS
Classic boots with a vegan and circular twist. The Paradigm boots from VIRÓN are made from 100% AppleSkin™️, a material derived from apple waste from the food industry in Northern Italy.
VIRÓN is a plant-based, Parisian footwear brand following a slow fashion approach with a focus on circularity and a philosophy deeply routed in youth and counterculture.
Manufactured in Portugal, all VIRÓN footwear is PETA certified and made with eco-friendly leather alternatives and a minimal use of virgin fabrics instead using recycled materials. VIRÓN soles have a 70% recycled rubber content, and through their take-back scheme, used soles can be sent back to the factory and made in to a new shoe. The gift that keeps on giving.


SHOP NICE GIFTS ™ AT PARO STORE - SUSTAINABLE & ECO-FRIENDLY CHRISTMAS GIFTS
Discover more sustainable gifts on PARO STORE in our NICE GIFT SHOP™ - full of more considered, sustainable and eco-friendly gifts; unusual, handmade, packed with care by a small business owner, organic, planet-friendly, cruelty-free, and rubbish (that's been re-made into something great!). We bring together a highly curated selection of designs from emerging designers, based mainly in Europe, who produce in a way that's better for people and the planet; assessed against our nine design codes. So if you are looking for sustainable Christmas gift ideas we've got you covered.